Good morning and welcome to episode 526 of 'Talking Bull'. In this video/podcast we cover the main headlines and what to expect from the day ahead. 
We take a technical look at key markets that are likely to be impacted by today's events. Also, we participate in a 'Gun to the head' challenge where each of us calls a live trade. These will expire at 9pm tonight and we will keep track of the progress over time.
We hope you enjoy it!
Show notes:
Joe was stopped out on Bitcoin, while Steve made 2.44R on NASDAQ.
We have included an illustration based on a £1000 account. This will follow the combined return of our morning trades by risking 1% of the trading capital per trade. The 1% risk is a variable monetary amount and will rise and fall based on the success of the calls.
We are currently up 87.58% collectively since we began recording Talking Bull on the 30th October 2019.
News
The selloff in tech companies resumed on Thursday after a raft of Federal Reserve officials signaled their intention to combat inflation aggressively. Lael Brainard said the U.S. central bank could raise interest rates as early as March. Christopher Waller said that three interest-rate increases this year was a "good baseline" but there may be fewer or even as many as five moves. Patrick Harker and Charles Evans also joined the widespread calls for higher interest rates this year.
The U.S. is said to be putting pressure on European allies to agree on potential sanctions against Russia, worried about slow progress despite weeks of talks and heightened concerns that President Vladimir Putin could soon invade Ukraine. The Biden administration is also said to have discussed the range of possible actions by Moscow it believes should trigger retaliation. Aside from sending troops into Ukraine, it could include any effort to engineer a coup against Ukrainian president Volodymyr Zelenskiy or other acts to destabilize his government.
Boris Johnson's government will not face a police inquiry into alleged pandemic rule-breaking parties in Downing Street unless an ongoing probe by a senior civil servant turns up evidence of criminal behavior. The news appears to remove one potential headache for Johnson, though it also piles pressure on Sue Gray, the official in charge of preparing a report on the May 2020 event as well as other gatherings in Downing Street during the pandemic.
A divided U.S. Supreme Court blocked the centerpiece of President Joe Biden's push to get more people vaccinated amid a Covid-19 surge, rejecting an Occupational Safety and Health Administration rule that would have required 80 million workers to get shots or periodic tests. Meanwhile, Chicago nurses joined colleagues across the country Thursday to protest against working conditions that they say have rapidly deteriorated as hordes of Covid-19 patients push hospitals to the limit.
Thursday saw a resumption of the downward move for US stocks, causing an erosion of some of the gains made earlier in the week. Tech stocks have borne the brunt of the selling, and another 2.5% decline for the Nasdaq yesterday has prompted fears of a further medium-term decline for the index. It was a similar story in Asia overnight, where markets maintained a generally negative tone. In South Korea the central bank raised interest rates for the third time since August, to pre-pandemic levels. Today sees the start of the Q4 earnings season for US stocks, and JPMorgan begins the parade along with Citigroup this afternoon.
Data Today
1.30pm – US retail sales (December): sales expected to rise 0.3% MoM. Markets to watch: USD crosses
3pm – US consumer confidence (January, preliminary): index to hold at 70.6. Markets to watch: USD crosses
Gun to head challenge – Update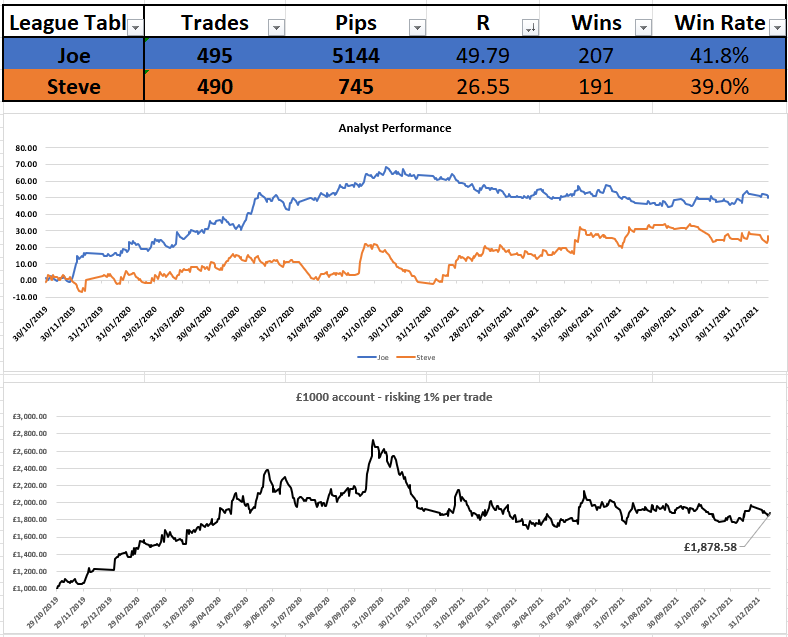 Today's trade idea

Have a great week everyone.
Get award-winning FCA regulated signals and levels on over 30 markets, as well as education resources so you never trade alone.