Good morning and welcome to episode 654 of 'Talking Bull'. In this video/podcast we cover the main headlines and what to expect from the day ahead. 
We take a technical look at key markets that are likely to be impacted by today's events. Also, we participate in a 'Gun to the head' challenge where each of us calls a live trade. These will expire at 9pm tonight and we will keep track of the progress over time.
We hope you enjoy it!
For a selection of free educational content, join our Discord server at – https://discord.gg/Db4UWVFvF6
Show notes:
Joe was up 1.88R on GBPCHF, Steve hit target for a 3R win on GBPUSD. Jamie was offside 0.06R on Bitcoin.
We have included an illustration based on a £1000 account. This will follow the combined return of our morning trades by risking 1% of the trading capital per trade. The 1% risk is a variable monetary amount and will rise and fall based on the success of the calls.
We are currently up 133.08% collectively since we began recording Talking Bull on the 30th October 2019.
News
German business confidence slides
The German IFO business confidence index retreated to 88.6 for July from a revised 92.2 previously which was lower than consensus forecasts of 90.2 and the lowest reading since June 2020. The current assessment index declined to 97.7 from 99.4 in June while the expectations index dipped sharply to 80.3 from 85.5 with both readings below market expectations.
The IFO commented that uncertainty among companies has increased significantly and recession is knocking at the door with the risk continuing to increase if current developments continue.
German gas supplies cut
Gazprom announced that there would be a net reduction in supplies to around 20% of capacity from 25% seen since last week's restart.
Supplies at this level would make it extremely difficult for Germany to build up sufficient supplies to meet demand during the winter with expectations that emergency programmes will be put into effect to curb demand.
Euro resilient despite gas fears
The Euro dipped lower after the German IFO data and there were important reservations over gas supplies.
The Euro was, however, broadly resilient and EUR/USD managed to trade above the 1.0200 level on Tuesday as lower yields limited dollar support.
UK manufacturing struggles
The UK CBI industrial orders index declined to 8 for July from 18 previously and below consensus forecasts of 13. Output increased at a slower rate in the quarter and business confidence deteriorated again while there was a slight easing of cost pressures and investment intentions were slightly stronger.
Australian inflation data due
The second-quarter Australian CPI data will be released on Wednesday with expectations that prices will increase 1.9% after a 2.1% increase the previous quarter. Underlying prices are forecast to increase 1.5% from 1.4% previously.
The data will be important for Reserve Bank policy expectations.
Data Today
15.00: US consumer confidence
02.30 (Wed) Australia consumer prices (Q2)
Key events over the next week
July 27th: Federal Reserve policy decision
July 28th: US GDP (Q2 advance reading)
Gun to head challenge – Update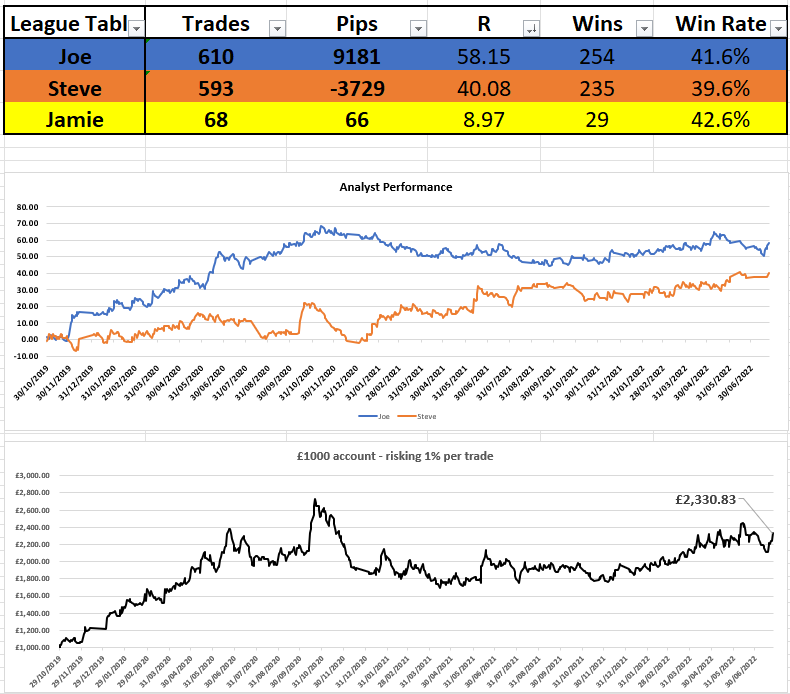 Today's trade idea

Have a great week everyone.
Get award-winning FCA regulated signals and levels on over 30 markets, as well as education resources so you never trade alone.