Good morning and welcome to episode 731 of 'Talking Bull'. In this video/podcast we cover the main headlines and what to expect from the day ahead. 
We take a technical look at key markets that are likely to be impacted by today's events. Also, we participate in a 'Gun to the head' challenge where each of us calls a live trade. These will expire at 9pm tonight and we will keep track of the progress over time.
We hope you enjoy it!
For a selection of free educational content, join our Discord server at – https://discord.gg/Db4UWVFvF6
Show notes:
Taf was onside 1.06R on Gold. Steve was offside 0.23R on Bitcoin. Joe was stopped out on NASDAQ.
We have included an illustration based on a £1000 account. This will follow the combined return of our morning trades by risking 1% of the trading capital per trade. The 1% risk is a variable monetary amount and will rise and fall based on the success of the calls.
We are currently up 203.73% collectively since we began recording Talking Bull on the 30th October 2019.
News
US Philly Fed index deteriorates
The Philly Fed manufacturing index dipped further to -19.4 for November from -8.7 previously and well below consensus forecasts of -6.2. New orders remained in contraction territory and unfilled orders also declined sharply for the month with smaller growth in shipments.
There was a smaller increase in employment for the month with a small net increase in inflation pressures. Companies remained generally pessimistic over the outlook with inflation pressures expected to weaken slightly with the data overall increasing reservations over the outlook.
US continuing jobless claims increase
US initial jobless claims declined slightly to 222,000 in the latest week from 226,000 and close to consensus forecasts.
Continuing claims increased to 1.51mn from 1.49mn and the highest reading for over six months which suggested that there had been a net weakening in the labour market.
Mixed dollar trading
The dollar posted gains on Thursday when equity markets moved lower, but the US currency was unable to sustain the gains as equities recovered while underlying position adjustment continued in choppy intra-day trading.
UK disposable incomes set to slide
In the Autumn Statement, Chancellor Hunt announced fiscal tightening of £55bn over the next five years. Most tax allowances will be frozen for six years which will contribute to major fiscal drag. Spending levels will be capped, although most tightening will take place after the next election.
Hunt announced that windfall taxes will be increased and the overall tax burden will increase to a 70-year high. The Office for Budget Responsibility stated that the overall debt/GDP ratio will increase while there will be a decline in real disposable incomes of over 7% by 2024, the sharpest 2-year decline on record.
Sterling regains losses
Sterling lost ground after the Autumn Statement, but an important element was the weaker trend in risk appetite and the UK currency rebounded later in the session as equities managed to regain ground and Sterling short covering kicked in.
BoJ stays dovish despite inflation jump
Japan's core inflation rate increased to a 40-year high of 3.6% from 3.0% previously and above expectations of 3.5%. Bank of Japan Governor Kuroda, however, insisted that there would be tightening of monetary policy until wages increases accelerate.
Data Today
15.00: US existing home sales
Key events over the next week
November 23rd: Global PMI flash data
Gun to head challenge – Update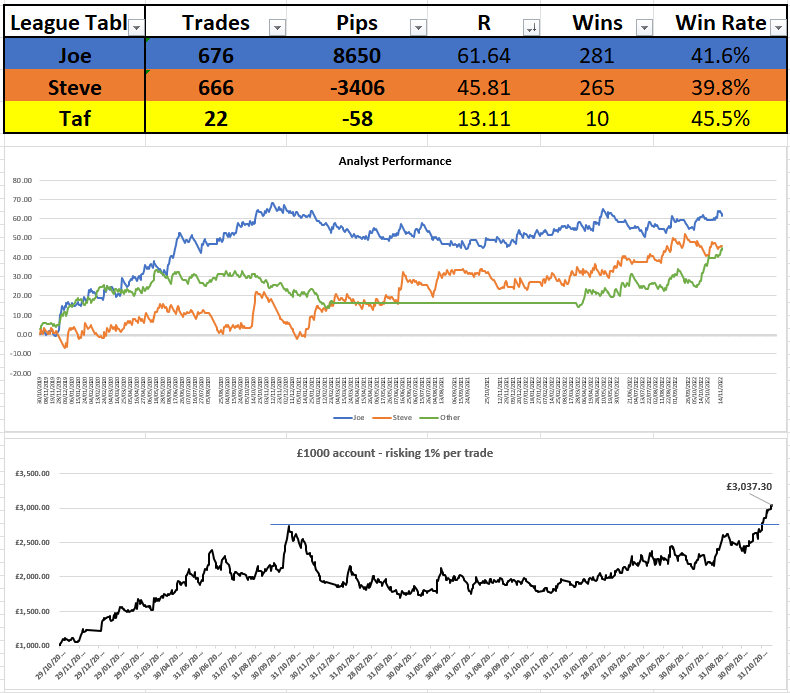 Today's trade idea

Have a great week everyone.
Get award-winning FCA regulated signals and levels on over 30 markets, as well as education resources so you never trade alone.