Good morning and welcome to episode 726 of 'Talking Bull'. In this video/podcast we cover the main headlines and what to expect from the day ahead. 
We take a technical look at key markets that are likely to be impacted by today's events. Also, we participate in a 'Gun to the head' challenge where each of us calls a live trade. These will expire at 9pm tonight and we will keep track of the progress over time.
We hope you enjoy it!
For a selection of free educational content, join our Discord server at – https://discord.gg/Db4UWVFvF6
Show notes:
Joe was onside 3.55R on USDCAD. Steve and Taf were stopped out on DXY and Gold.
We have included an illustration based on a £1000 account. This will follow the combined return of our morning trades by risking 1% of the trading capital per trade. The 1% risk is a variable monetary amount and will rise and fall based on the success of the calls.
We are currently up 196.88% collectively since we began recording Talking Bull on the 30th October 2019.
News
US CPI inflation below expectations  
US consumer prices increased 0.4% for October compared with consensus forecasts of a 0.6% increase with a larger than expected decline in the year-on-year rate to a 9-month low of 7.7% from 8.2% and compared with expectations of 8.0%. 
Food prices increased 0.6% on the month for a 10.9% annual increase while energy prices increased 1.8% on the month although with a sharp decline in gas prices. 
Core prices increased 0.3% on the month with the annual rate slowing to 6.3% from 6.6% and below expectations of 6.5%. Used-car prices declined 2.4% on the month and apparel prices also declined, but there was a further 0.8% increase in shelter prices as rents continued to increase sharply. 
The data increased optimism that inflation had peaked. 
Shift in Fed Funds futures 
Following the data, there was a sharp adjustment in Fed Funds futures with markets pricing in just over an 80% chance that the Fed Funds rate would increase by 50 basis points at the December meeting compared with below 50% ahead of the data. 
Peak rate expectations also declined to below 5.0%  
US yields slide  
US Treasuries posted strong gains after the US inflation data with the 2-year yield sliding to below 4.30% from 4.60% while the 10-year yield also retreated sharply to below 3.85% from close to 4.10%.  
The 10-year yield retreated slightly further to 1-month lows near 3.80% on Friday. 
US equities surge  
The inflation data provided strong relief to equity markets with sentiment boosted by the shift in Fed expectations and sharp decline in bond yields. 
Optimism that peak inflation had been seen also boosted confidence 
US indices posted very strong gains with a 7.3% surge in the Nasdaq index and all global bourses made headway. 
Dollar slumps  
The dollar also posted very sharp losses on the shift in rate expectations while the surge in equity markets also undermined potential US currency demand. 
The dollar index slumped to 8-week lows with EUR/USD trading above 1.0200. 
USD/JPY also slumped over 5 big figures from peak levels with lows below 141.00 and the sharpest daily decline in the pair for 6 years.  
Limited cryptocurrency relief   
Overall sentiment surrounding cryptocurrencies remained extremely fragile with further fears over the near-collapse in FTX and withdrawal restrictions elsewhere. 
The surge in risk appetite did provide an element of relief with net gains. 
UK GDP contraction   
UK GDP declined 0.6% for September, worse than the expected decline of 0.4%, but the third-quarter decline was held at 0.2% which provided some relief.  
Data Today
15.00: University of Michigan consumer confidence index 
Key events over the next week 
November 16th: UK consumer prices 
November 16th: US retail sales 
Gun to head challenge – Update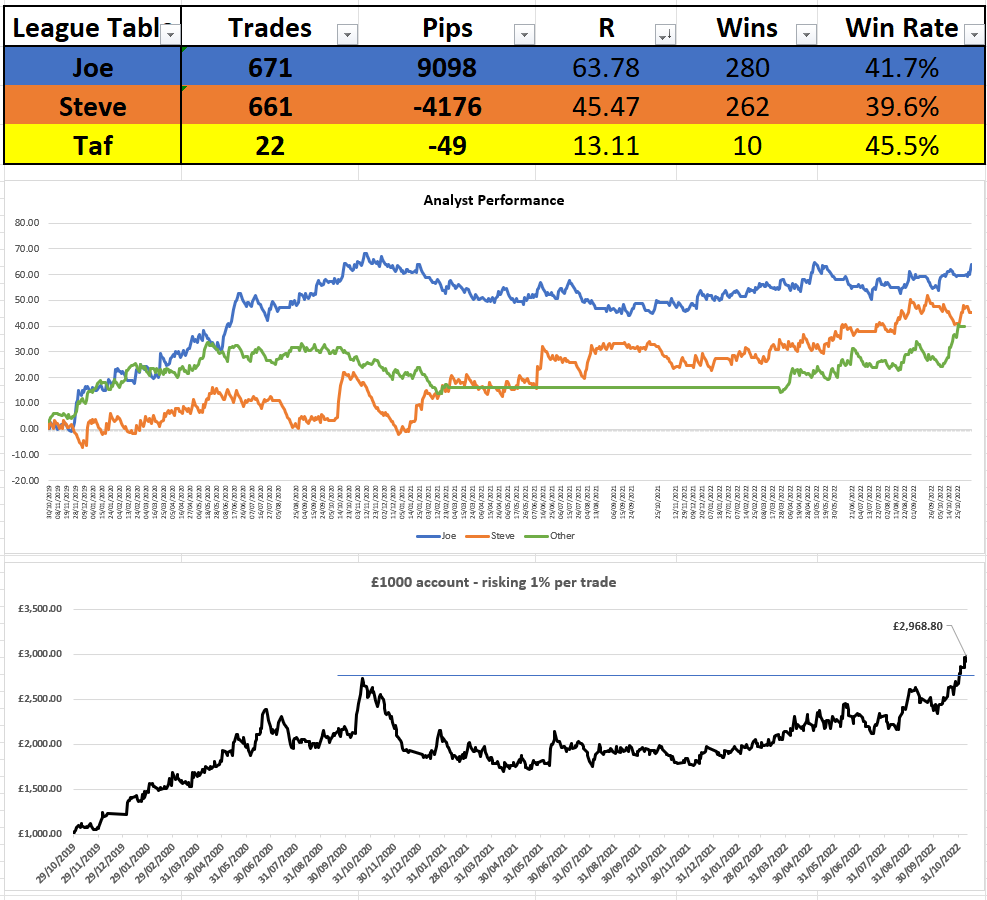 Today's trade idea

Have a great week everyone.
Get award-winning FCA regulated signals and levels on over 30 markets, as well as education resources so you never trade alone.