Good morning and welcome to episode 457 of 'Talking Bull'. In this video/podcast we cover the main headlines and what to expect from the day ahead. 
We take a technical look at key markets that are likely to be impacted by today's events. Also, we participate in a 'Gun to the head' challenge where each of us calls a live trade. These will expire at 9pm tonight and we will keep track of the progress over time.
We hope you enjoy it!
Join us on Telegram for more content – https://t.me/SCFree
Show notes:
Joe was offside by 0.34R on Dow at 9pm.
We have included an illustration based on a £1000 account. This will follow the combined return of our morning trades by risking 1% of the trading capital per trade. The 1% risk is a variable monetary amount and will rise and fall based on the success of the calls.
We are currently up 94.20% collectively since we began recording Talking Bull on the 30th October 2019.
News
The European Central Bank has decided to slow the pace of purchases under a giant emergency program it unleashed in the wake of the coronavirus pandemic. President Christine Lagarde was careful not to call it a tapering but a "recalibration" amid a stronger near-term outlook for prices and growth. And bond purchases may still end up lasting for years as conditions for a rate rise are unlikely to be met, according to a Pimco money manager.
U.S. President Joe Biden will ask federal employees, contractors and health-care workers to get vaccinated against the coronavirus, adding to government efforts around the world to deal with unprotected parts of the population. The decision follows a rise in delta variant infections that triggers fresh concerns about the pandemic. Meanwhile, researchers are warning that the proliferation of Covid-19 variants in Africa, partly attributed to a low vaccination rate, could lead to vaccine-evading mutations.
Deutsche Bank analysts are adding to concerns about high stock valuations, flagging growing risks of a "hard" valuation correction. Five-year forward returns have tended to be negative on average when stocks trade at similar valuations to today. This follows recent warnings from Goldman Sachs, Morgan Stanley and Citi that equity gains in the U.S. are increasingly vulnerable to shocks, ranging from Covid-19 to the easing of central bank support.
China is selling oil from its strategic reserves, explicitly to lower prices, in a major intervention from the world's largest oil importer. The government is combating rising raw materials costs and indicated it could release more reserves to balance the market. The move comes as factory-gate inflation has risen to a 13-year high, which puts pressure on consumer prices worldwide.
A strong session throughout Asia allayed fears evident in US markets, with the Hang Seng and CSI 300 leading the gains. That came after Xi Jinping and Joe Biden held a call to lift sentiment over relations between the two nations. Yesterday saw the Chinese release oil from their strategic reserves, with the nation continuing to struggle in their bid to drive down commodity prices.
A raft of UK data has highlighted a slowdown in the economic recovery, with industrial production, manufacturing production, July GDP, and trade balance all deteriorating. Despite this, initial GBP weakness has largely been recovered. Looking ahead, keep an eye out for the Canadian jobs report, and US PPI inflation.
Data Today
1.30pm – US PPI (August): prices to rise 0.9% MoM. Markets to watch: USD crosses
1.30pm – Canada jobs report (August): previous month saw 94,000 jobs created and an unemployment rate of 7.5%. Markets to watch: CAD crosses
Gun to head challenge – Update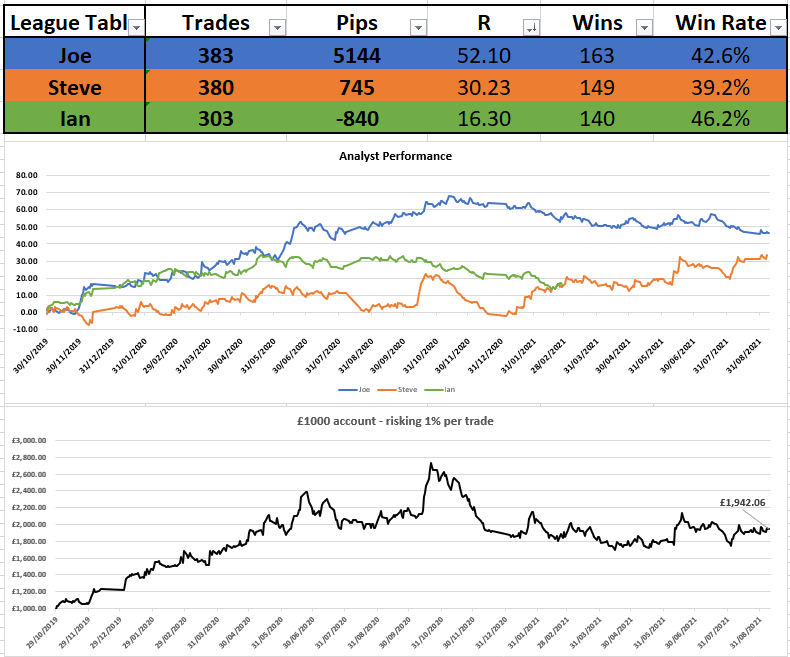 Today's trade idea

Have a great week everyone.
Get award-winning FCA regulated signals and levels on over 30 markets, as well as education resources so you never trade alone.