Good morning and welcome to episode 475 of 'Talking Bull'. In this video/podcast we cover the main headlines and what to expect from the day ahead. 
We take a technical look at key markets that are likely to be impacted by today's events. Also, we participate in a 'Gun to the head' challenge where each of us calls a live trade. These will expire at 9pm tonight and we will keep track of the progress over time.
We hope you enjoy it!
Show notes:
Joe was stopped out on GBPUSD. Steve made 0.06R on China A50
We have included an illustration based on a £1000 account. This will follow the combined return of our morning trades by risking 1% of the trading capital per trade. The 1% risk is a variable monetary amount and will rise and fall based on the success of the calls.
We are currently up 92.14% collectively since we began recording Talking Bull on the 30th October 2019.
News
The recovery from the Covid-19 pandemic is losing steam and becoming increasingly divided, the International Monetary Fund has warned. It now expects global growth of 5.9% for this year, down 0.1 percentage point in July. The recovery is hampered by supply chain disruptions, which have become so acute that an upcoming meeting of G-7 finance ministers in Washington will call for collaboration.
The U.S. has submitted a new proposal to the EU to solve a dispute on steel tariffs. Under the plan, it would allow a larger quantity of steel to enter the U.S. before higher duties kick in. The two sides are rushing to find a solution before December, when new European tariffs are due to automatically kick in. The proposal still involves tariff-rate quotas that have been discussed in previous weeks.
Persistent chip shortages will likely force apple to cut production targets for the iPhone 13 by as many as 10 million units this year. Despite its deep pockets, the tech giant is still set to face supply disruptions and miss the production target of 90 million new iPhone models in the last quarter. The chip crunch comes as the firm is getting ready to unveil its first redesign to the MacBook Pro in five years later this month.
European markets are looking at a muted open, matching Asia as traders await U.S. CPI data and look ahead to the earnings season. JPMorgan kicks things off for big banks in the U.S. Delta Air Lines will give an insight into the airline industry's recovery from the pandemic. Blackrock also reports, while Just East Takeaway is scheduled to update sales. Away from earnings, the G-20 finance ministers and central bank governors will meet in Washington, while traders will be watching the Fed minutes. And it's warp speed ahead for Jeff Bezos's Blue Origin, which is scheduled to launch its second human space flight mission. William Shatner — Star Trek's Captain Kirk — will be on board.
Chinese stocks provided the one outlier within a session that has been largely dominated by moderate losses in the face of inflation fears. Hong Kong stocks remained closed over the session thanks to a typhoon in the region. Evergrande and inflation concerns remain a constant of late, and that remains to be a key concern to hold back markets given the impact upon monetary policy. Overnight trade data out of China saw a sharp rise in exports from the Asian powerhouse, with the trade surplus rising to a seven-month high.
That comes after imports fell to 10.1%, and exports grew to 19.9%. A raft of data out of the UK has been a largely mixed affair. A monthly GDP rise to 0.4% fell short of expectation, while manufacturing (0.5%) and industrial production (0.8%) came in above forecasts. Looking ahead, watch out for the eurozone industrial production, US CPI, and FOMC minutes releases, along with JPMorgan earnings as reporting season gets underway.
Data Today
1.30pm – US CPI (September): prices to rise 5.3% YoY and 0.3% MoM, while core CPI rises 4% YoY and 0.2% MoM. Markets to watch: US indices, USD crosses
7pm – FOMC minutes: these will look at the discussions around the latest Fed decision. Markets to watch: US indices, USD crosses
Gun to head challenge – Update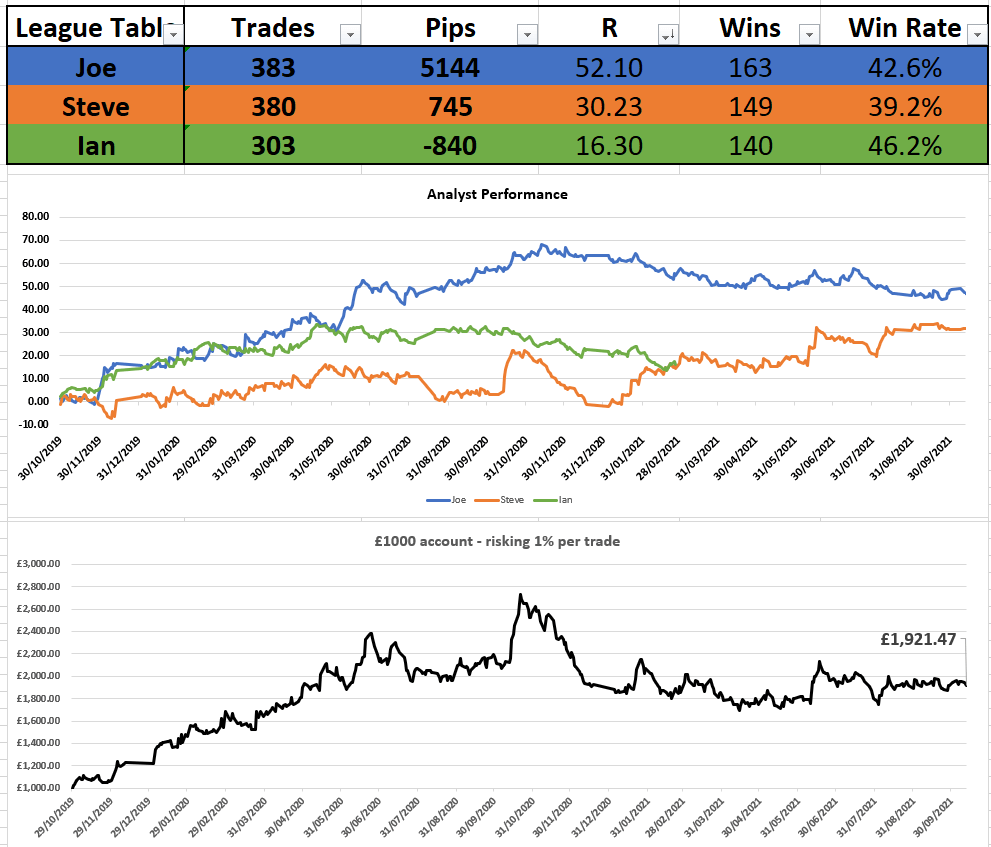 Today's trade idea

Have a great week everyone.
Get award-winning FCA regulated signals and levels on over 30 markets, as well as education resources so you never trade alone.