The US dollar was boosted by strong data
Posted: 6th March 2019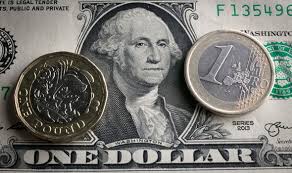 Daily market report March 6th 2019
Market highlights
The US dollar was boosted by strong data from the services sector, especially with expectations of US out-performance compared to Europe and the Euro remained weak.
Sterling recovered ground after slight more hawkish comments from Bank of England Governor Carney, but a lack of positive Brexit rhetoric restrained demand.
The Australian dollar declined sharply after a miss on Q4 GDP data and commodity currencies overall lost support.
Oil prices were hit by a larger than expected API inventory build with further choppy trading.
Equity markets were mixed with some net support from gains in China amid hopes of further stimulus measures.
Cryptocurrencies rallied with evidence of higher trading volumes.
EUR/USD
The final February Euro-zone PMI services reading was revised to 52.8 from the flash reading of 52.3 with readings for all major economies beating consensus forecasts and there was some relief that Italy moved back into expansion territory, although Euro-zone developments were limited.
Dallas Fed President Kaplan stated that the high levels of corporate debt were one reason to justify patience on interest rates. Boston head Rosengren stated that policymakers can be patient in the face of heightened risks especially with some evidence that the more pronounced slowdown in the rest of the world could dampen US growth. Earlier concerns over potential overheating are somewhat less pressing at this juncture, although further rate hikes could still be required.
The US PMI services-sector index was revised down slightly to 56.0 from the flash reading of 56.2. In contrast, new home sales hit an annual rate of 621,000 from a revised 599,000 while IBD consumer confidence strengthened to 55.7 from 50.3.
Most importantly, the ISM non-manufacturing strengthened to a 3-month high of 59.7 for February from 56.7 previously and above market expectations of 57.4. There were very strong readings for new orders and business activity, although employment and prices growth slowed. The data overall boosted confidence in the US outlook and the dollar pushed higher with EUR/USD sliding below the 1.1300 level. Although the Euro recovered slightly after the European close, EUR/USD traded close to 1.1300 on Wednesday as the dollar secured a fresh advance against commodity currencies.
USD/JPY
US Treasuries retreated after the stream of data releases, although the impact was limited given that inflation indicators were broadly subdued. Equities also edged lower which curbed potential yen selling, although wider strength propelled USD/JPY to just above 112.00. There was further selling interest above this level with a limited retreat as US yields edged lower once again.
Bank of Japan member Harada stated that a sales tax increase may cause a recession and weaken inflationary pressures. According to Harada, the bank should also strengthen monetary easing without hesitation if the economy worsens and the comments undermined yen support, although he is a notably dovish board member.
Although Japanese equities declined, Asian market overall held firm on Wednesday with expectations of stimulus measures to support the Chinese economy. USD/JPY consolidated around 111.80 with the yen demonstrating some overall resilience.
Sterling
The UK PMI services sector index strengthened to 51.3 for February from 50.1 which above consensus forecasts and avoided a dip into contraction territory. Underlying components were weak, however, with Brexit uncertainty contributing to a lack of new orders while employment declined. The data also suggested that first-quarter GDP would be held to around 0.1%.
Sterling briefly recovered ground after the data before retreating once again following comments from UK officials that a breakthrough was unlikely in Tuesday's talks with the EU. According to Labour Party's McDonnell few opposition MPs would back the Brexit deal and GBP/USD hit lows of 1.3100 while EUR/GBP strengthened to around 0.8645.
Bank of England Governor Carney stated that the market path of implied interest rates may not be high enough which triggered fresh Sterling demand. GBP/USD recovered to 1.3170 while EUR/GBP retreated back below 0.8600.
Brexit talks with the EU reportedly failed to make a breakthrough, although there were no media briefings which increased uncertainty and talks will resume on Wednesday. GBP/USD retreated back below 1.3150 on speculation that talks were deadlocked.
Swiss franc
Swiss consumer prices increased 0.4% for February which was in line with consensus forecasts and the year-on-year inflation rate held at 0.6%. The data suggested that the central bank would maintain its negative interest rate policy.
Although European yields edged lower during the day the Swiss franc lost ground with EUR/CHF above 1.1350 despite wider losses while USD/CHF pushed to highs above 1.0050.
Expectations of Chinese action to support demand underpinned risk conditions and the franc held a slightly softer tone on Wednesday.
AUD/USD + USD/CAD
The Australian dollar was unable to gain any traction during Tuesday with AUD/USD hampered by a firm US dollar tone and fragile tone in precious metals with consolidation around 0.7080.
Comments from Reserve Bank Governor Lowe were broadly neutral as he highlighted a strong labour market, but also stated that growth was below trend during the second half of 2018 and the Australian dollar failed to make headway.
Fourth-quarter GDP growth of 0.2% was also below consensus forecasts of 0.3% and components were generally negative with weakness in investment and housing sectors.
The Australian dollar declined sharply to near 0.7030 following the data.
Political uncertainty and choppy trading in the energy complex unsettled the Canadian dollar during Tuesday and it traded with a soft overall tone as USD/CAD pushed to 3-week highs around 1.3360.
A dip in oil prices and wider losses in commodity currencies maintained a strong USD/CAD tone on Wednesday.
NOK+ SEK
Riksbank member Skingsley stated that recent GDP data reinforced her view that negative expectations were not justified. She also stated that she was struggling to understand recent Krona weakness and that it was possible to raise interest rates even if inflation dips slightly below target.
The comments triggered a recovery in the krona. Swedish industrial orders data recorded a 0.5% annual decline from a revised 2.1% previously, but the krona held a firm tone with EUR/SEK retreating to near 10.52 before a slight recovery with USD/SEK holding above 10.30.
The Norwegian krone was able to resist further losses on Tuesday, although the overall tone remained fragile. EUR/NOK found support below 9.80 and edged back above this level as oil prices weakened again with USD/NOK above 8.65.
Equities
Euro-zone equities moved lower ahead of the New York open before recovering ground on hopes of an improved global growth outlook and supportive monetary policies.
The German DAX index gained 0.25% and the Eurostoxx 50 index pushed to fresh 4-month highs, although Spanish and Italian bourses edged lower on the day.
Major UK stocks were boosted by further Sterling losses during Tuesday with hopes for a China stimulus contributing to the positive mood with a 0.7% gain for the FTSE 100 index.
US stocks held in narrow ranges amid underlying doubts over the earnings outlook, especially with a firm dollar, although data releases provided net support with S&P 500 index losses held to 0.1%.
Asian equities secured a limited net advance on Wednesday with optimism over Chinese stimulus measures, although overall sentiment was cautious.
Japan's Nikkei 225 index declined 0.5% while the Australian ASX index gained 0.7% as a weaker Australian dollar boosted earnings expectations.
China's Shanghai index gained 1.55% with strong gains in late trading, although Hong Kong's Hang Seng index gains were held 0.15% in late trading.
Commodities
There was further choppy trading in oil prices during Tuesday, although prices overall were little changed.
Underling support from expectations of weaker supply was offset by doubts over demand after a run of disappointing manufacturing data releases.
Robust data from the services sector helped underpin crude with consolidation just above $56.50 p/b after hitting resistance near $57.0 p/b.
API data recorded a much larger than expected crude inventory build of 7.3mn barrels which triggered renewed selling pressure on oil prices with WTI retreating to near $56.0 p/b while Brent retreated to the $65.35 p/b area.
Gold continued to drift weaker during Tuesday and registered fresh 5-week lows around $1,284 per ounce. There was a slight recovery later in New York and some resilience in the face of fresh dollar gains as gold traded just below $1,290 per ounce on Wednesday.
Silver was able to secure some support below $15.10 per ounce, but with no significant recovery attempts.
Cryptocurrencies
Cryptocurrencies remained under pressure in early Europe on Tuesday, but bitcoin found support on approach to $3700. There was a sharp rally early in the New York session with bitcoin advancing sharply to near $3850 and other coins secured notable outperformance.
Sentiment was boosted by higher trading volumes and some evidence that global financial institutions were taking stronger interest in the market. Bitcoin peaked near $3880 before fading slightly on Wednesday.
Ether advanced strongly to above the $140 level and held close to this level on Wednesday.
Calendar
Major events for the day ahead: (times in GMT)
13.15: US ADP employment report
13.30: Canada trade balance
15.00: Bank of Canada interest rate decision
15.30: EIA crude inventories data
00.30 (Thurs): Australia retail sales