Good morning and welcome to episode 678 of 'Talking Bull'. In this video/podcast we cover the main headlines and what to expect from the day ahead. 
We take a technical look at key markets that are likely to be impacted by today's events. Also, we participate in a 'Gun to the head' challenge where each of us calls a live trade. These will expire at 9pm tonight and we will keep track of the progress over time.
We hope you enjoy it!
For a selection of free educational content, join our Discord server at – https://discord.gg/Db4UWVFvF6
Show notes:
Steve made 2.98R on Oil! Jamie was onside 0.44R on XRP. Joe was stopped on NASDAQ.
We have included an illustration based on a £1000 account. This will follow the combined return of our morning trades by risking 1% of the trading capital per trade. The 1% risk is a variable monetary amount and will rise and fall based on the success of the calls.
We are currently up 160.32% collectively since we began recording Talking Bull on the 30th October 2019.
News
US employment growth slows
The revamped ADP employment report recorded an increase in private-sector payrolls of 132,000 for August after an increase of close to 270,000 for July and below consensus forecasts of 290,000 for the month.
There was a significant dip in jobs for the smallest companies and mid-sized employers of 250-499 employees also recorded an employment decline for the month while other categories posted net gains. ADP reported that annual pay was up 7.6% over the year with relative stability in annual growth over the past few months.
Fresh record high for Euro-Zone inflation
Headline Euro-Zone consumer process increased 0.5% for August with the year-on-year rate increasing to a fresh record high of 9.1% from 8.9% and slightly above consensus forecasts of 9.0%. The core inflation rate increased to 4.3% from 4.0% which was above market expectations of 4.0% and also a fresh record high.
Hawkish Fed rhetoric continues
Cleveland Fed President Mester stated that it is far too early to conclude that inflation has peaked while wage pressures show little sign of abating. In this context, she did not anticipate a cut in interest rates next year.
US yields continue to increase
US Treasuries have remained under pressure over the past 24 hours with the 2-year yield at fresh 14-year highs and the 10-year yield at 3.20%.
Weak Chinese data
China's Caixin PMI manufacturing index dipped back into contraction at 49.5 for August from 50.4 previously and below expectations which undermined confidence in the outlook.
Dollar surges gain
Higher yields helped underpin the US dollar and there was also an element of defensive US support as equities continued to slide.
The yen remained under pressure despite risk aversion with USD/JPY surging to a 24-year high near 139.70 before a slight correction.
Data Today
13.30: US jobless claims
15.00: US ISM index manufacturing
Key events over the next week
September 2nd: US employment report
September 6th: Reserve Bank of Australia policy decision
September 7th: Bank of Canada policy decision
September 8th: ECB policy decision
September 9th: Canada employment report
Gun to head challenge – Update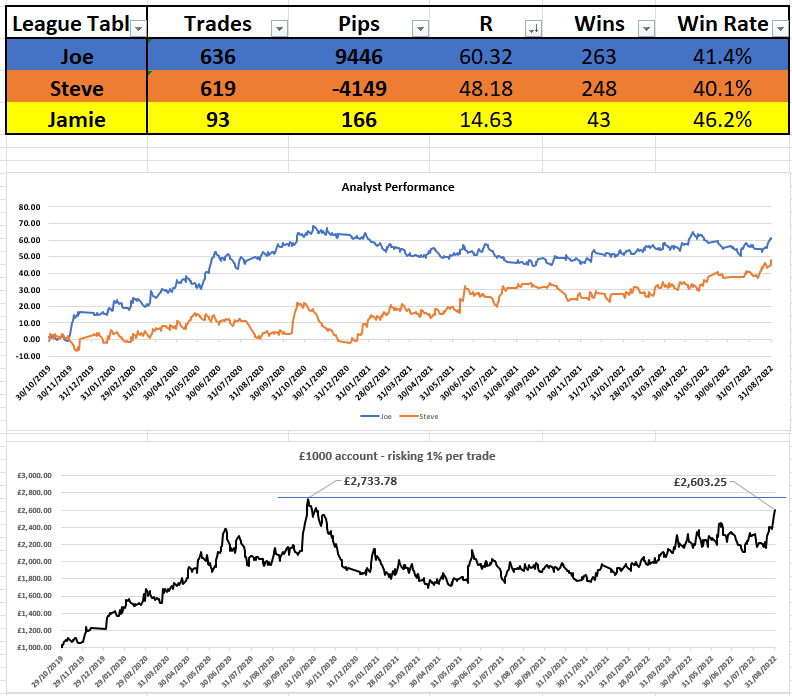 Today's trade idea

Have a great week everyone.
Get award-winning FCA regulated signals and levels on over 30 markets, as well as education resources so you never trade alone.