Trade ideas – 5 giants to sell ahead of a potential crash!
Posted: 7th August 2019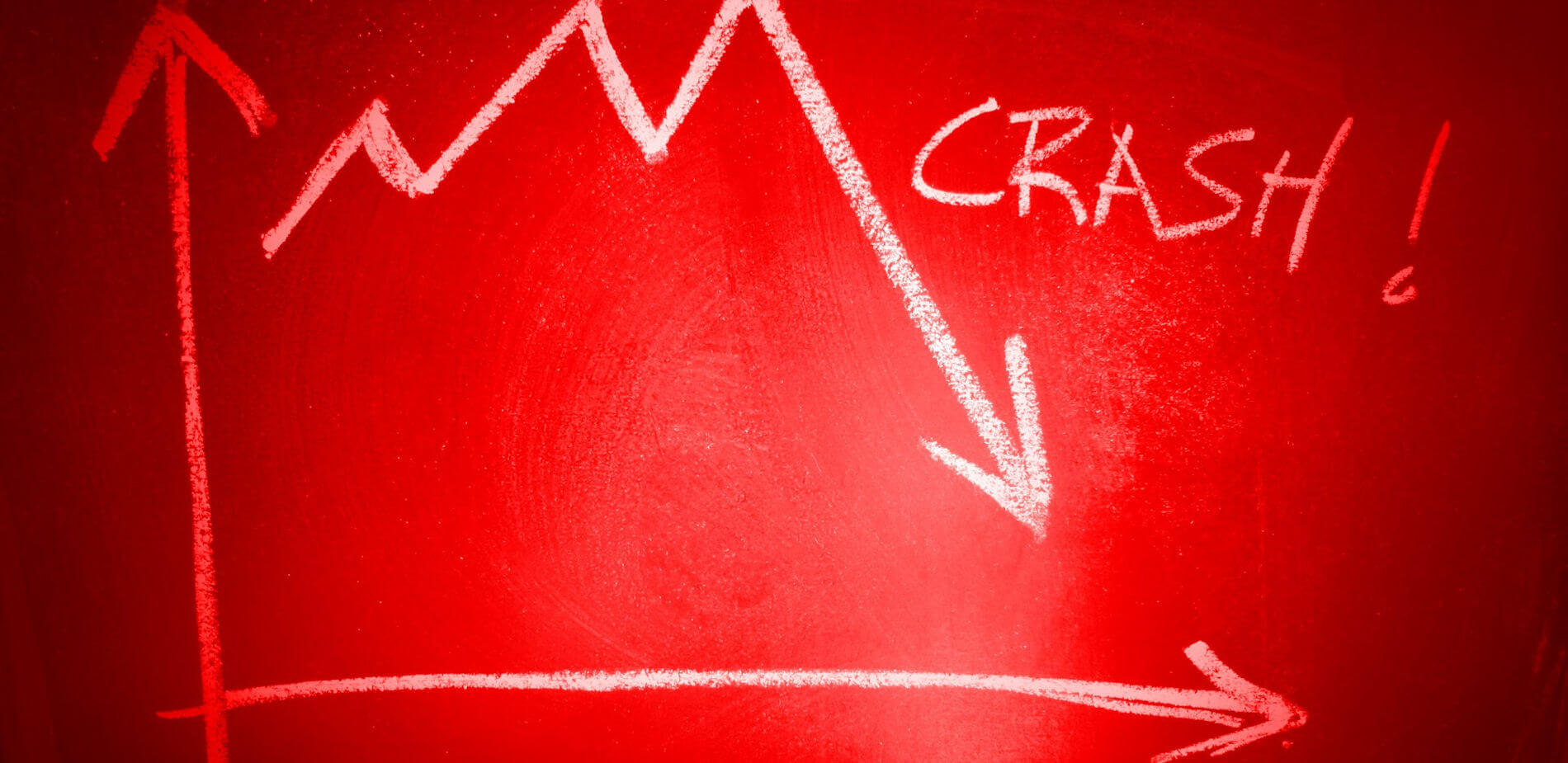 Trade ideas – 5 Stocks market giants to sell now ahead of a potential crash!
There has been an increase in volatility across global markets in recent weeks due to a combination of factors. The one that is front and center at present is the ongoing trade war between the US and China, which is causing serious levels of uncertainty.
It's looking increasingly likely that the situation will blow up into a full-blown currency war after President Trump labelled China as currency manipulators. For this situation to de-escalate it will require President Trump to backtrack, and given his reputation, that is not something that is likely to happen anytime soon.
China has asked its state-owned companies to stop buying U.S. agricultural products, according to a Bloomberg report. This will deal a major blow to American farmers, who have seen prices fall sharply as a result of the friction. The decline in the Chinese yuan makes Chinese imports in the United States less expensive, thus making U.S. companies less competitive. It also lowers profits for U.S. companies that do business in China.
The UK is feeling the shockwaves of this, especially due to the multinational make up of the FTSE 100 constituents. The UK is also dealing with its own political mess in the form of Brexit. Markets remained very uneasy over the situation with tensions inevitably set to increase further ahead of the late-August G7 meeting. According to reports, a cross-party group of MPs had launched legal action to prevent the government forcing a 'no-deal' outcome by suspending parliament.
The weekly chart below of the FTSE 100 shows a failure at the 78.6% Fibonacci resistance level and the posting of a bearish outside candle. If the market closes below the channel on Friday (9th August 2019) then its another bearish signal that suggests this correction may evolve into something much more painful for investors.
We have put together a list of 5 market giants that we think could be worth selling ahead of more pain.
Source: Tradingview.com
SELL – ANGLO AMERICAN (AAL)
Anglo American PLC is a mining company. The Company has a portfolio of mining operations and undeveloped resources with a focus on diamonds, copper, platinum group metals, and bulk commodities.
Fundamentals
Anglo American recently delivered an impressive set of half-year results, yet the share price has fallen significantly in recent days. The company underwent a radical restructuring plan in 2013 and this had paid of handsomely with the shares appreciating over 900% since the 2016 lows. The increased concern over trade wars between the US and China has impacted the share price considerably in recent days with the shares falling over 20%. This could be the start of a deeper correction.
Best Broker Target Price: 2900p (JP Morgan Cazenove 05/07/2019)
Worst Broker Target Price: 1200p (Liberum 28/02/2019)
Technical Analysis
Anglo American has moved sharply lower in recent weeks, breaking a key trend support line that has been in place June 2017. The horizontal support at 1870p has also given way following the gap lower on the week beginning 5th August 2019. This completed a double top formation and suggest further downside will be seen over the short to medium term. The targets are the 50%, 61.8% & 78.6% Fibonacci retracement levels from the lows in 2017 to the highs in June 2019.
Recommendation: Sell
Sell between 1800-1900p
Stop: 2135p
Targets: 1625p, 1465p & 1240p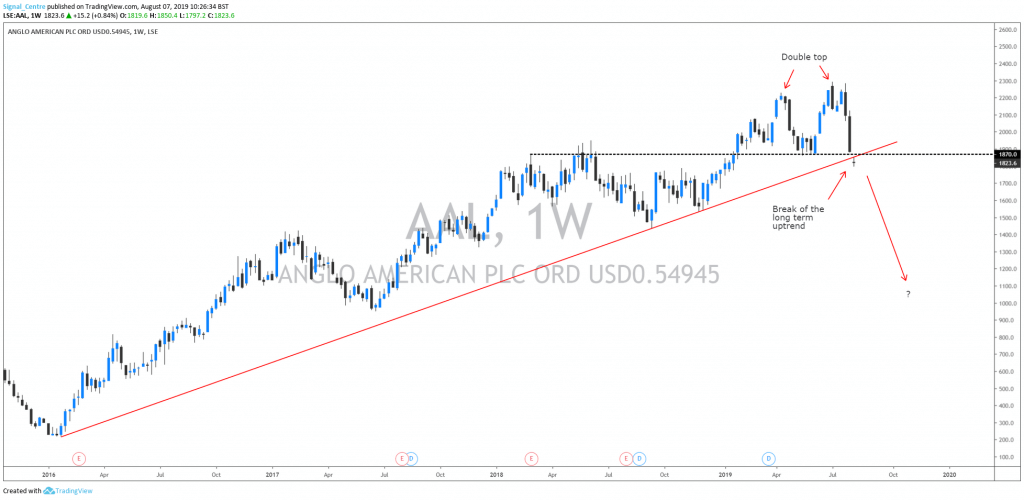 Source: Tradingview.com & LSE.co.uk
SELL – BP (BP.)
BP p.l.c. is an integrated oil and gas company. The Company owns an interest in OJSC Oil Company Rosneft (Rosneft), an oil and gas company. The Company's segments include Upstream, Downstream, Rosneft, and Other businesses and corporate.
Fundamentals
BP's second quarter earnings came in flat as increased production offset lower oil prices. According to CEO Bob Dudley, "BP is right on target". The initial reaction to the results was positive although this quickly reversed sending the shares sharply lower. Increased tensions with Iran and oil tankers being seized has not done much to the oil price, this may be suggesting that prices are high enough and that there is enough oil in circulation to match current demand.
Best Broker Target Price: 700p (Barclays 04/04/2019)
Worst Broker Target Price: 590p (Deutsche Bank 06/02/2019)
Technical Analysis
BP has closed below trend support that began in early 2016 on the weekly chart. This also took out horizontal support at 525p in the process. The shares attempted to rally in the following week only for the shares to be sold down again to form an inverted hammer candle. There is potentially a bigger threat forming in the shape of a head and shoulders top. The neckline of the pattern comes in at around 500p.  A break of this level could trigger a deeper corrective move towards the 50%, 61.8% & 78.6% Fibonacci retracement levels over the medium term.
Recommendation: Sell
Sell between 500-530p
Stop: 570p
Targets: 456p, 421p & 372p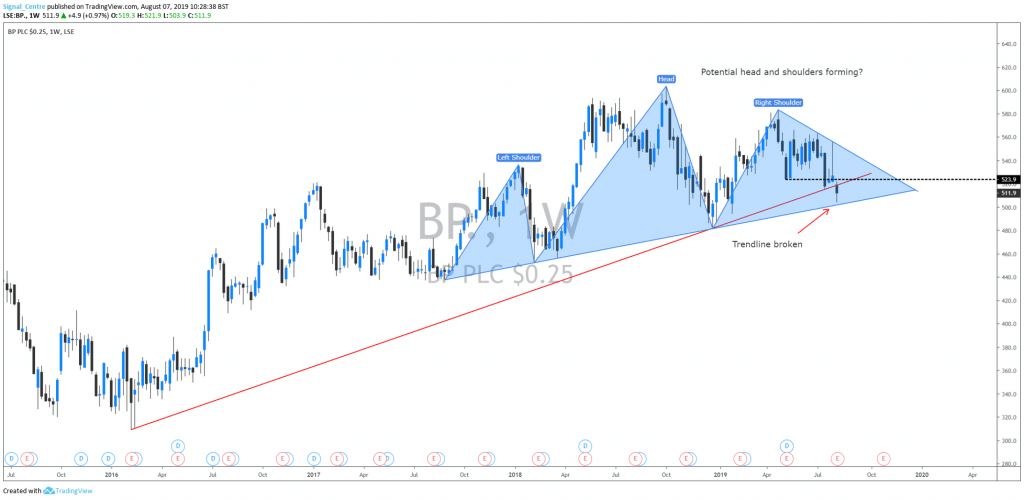 Source: Tradingview.com & LSE.co.uk
SELL – GLAXOSMITHKLINE (GSK)
GlaxoSmithKline PLC is a global healthcare company. The Company operates through two segments: Pharmaceuticals and Vaccines. The Company focuses on its research across six areas: Respiratory diseases, human immunodeficiency virus (HIV)/infectious diseases, Vaccines, Immuno-inflammation, Oncology and Rare diseases.
Fundamentals
GlaxoSmithKline has shifted strategy in recent months to increase spend on science research and development by 12%, this has been seen by some as too little to late. AstraZeneca implemented a similar plan 5 years ago. Revenues were flat at GSK in the most recent market update. The timing of the additional investment is also under scrutiny as net debt increased from £23.9bn to £28.7bn. The share price feels a bit heavy here and it could be time to cash in.
Best Broker Target Price: 1750p (Jefferies 23/04/2019)
Worst Broker Target Price: 1575p (Deutsche Bank 08/07/2019)
Technical Analysis
The share price of GlaxoSmithKline has been trading in a huge range since mid-2015. The price has gyrated between 1227-1745 for many months and there appears to have been another failure at the upper end of the range. The week commencing 29th July 2019 ended with a inverted hammer candle, this is a bearish signal and suggests further downside could be seen in the short term. It is possible that we could see a continuation of the range.
Recommendation: Sell
Sell between 1600-1750p
Stop: 1780p
Target: 1230p
Source: Tradingview.com & LSE.co.uk
SELL- ROYAL BANK OF SCOTLAND (RBS)
The Royal Bank of Scotland Group plc (RBS) is a banking and financial services company. The Company provides a range of products and services to personal, commercial, corporate and institutional customers, through its subsidiaries, The Royal Bank of Scotland plc and National Westminster Bank Plc.
Fundamentals
The end to the PPI mis-selling compensation is within reach for UK banks but wider problems remain for the banking sector. The European Commission is set to launch a £1bn lawsuit alleging that Barclays and RBS, as well as others, had engaged in rigging foreign exchange markets. This isn't the only worry for British banks, the threat of a 'no-deal Brexit' looms large of the UK economy and banks. More uncertainty in the coming weeks is not likely to be positive for the share price.
Best Broker Target Price: 489p (Jefferies 25/03/2019)
Worst Broker Target Price: 230p (RBC Capital Markets 20/06/2019)
Technical Analysis
RBS shares are breaking below key support at 200p and continue to trade in a sequence of lower highs which date back to the end of 2017. The overall trend remains bearish and the break to new lows suggest we are not at the end of the current bearish move. The next major support is the 78.6% Fibonacci retracement level of 181.6p, below that we are targeting the 2016 lows sparked by the initial Brexit vote. Below that we are looking at the lows form the 2008-09 financial crisis.
Recommendation: Sell
Sell between 190-210p
Stop: 235p
Target: 182p, 148.5p & 100p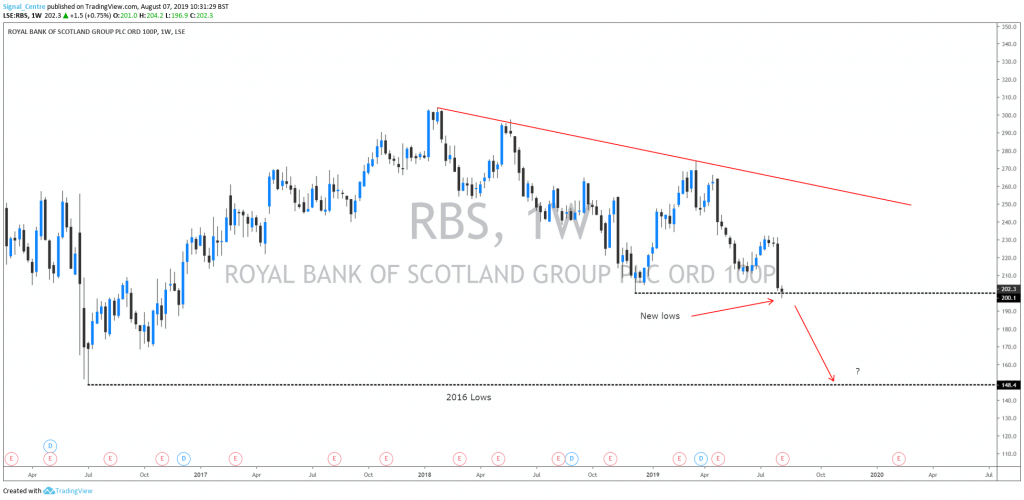 Source: Tradingview.com & LSE.co.uk
SELL -TAYLOR WIMPEY (TW.)
Taylor Wimpey plc is a residential developer. The Company operates at a local level from 24 regional businesses across the United Kingdom, and it has operations in Spain.
Fundamentals
Brexit uncertainties continue to undermine the performance of certain UK housebuilders. The ongoing political threat is sending shares in Taylor Wimpey lower. The latest set of results showed that first half operating profits were down 9.4%, which reflects higher build costs and tougher standards. House prices are stagnating, particularly in London and the South East where Taylor Wimpey are significantly exposed. Tougher times potentially remain ahead.
Best Broker Target Price: 200p (Berenberg Bank 05/03/2019)
Worst Broker Target Price: 140p (Peel Hunt 10/12/2018)
Technical Analysis
Taylor Wimpey has been unable to reach the heights it saw in the aftermath of the Brexit result in 2017 and since then has traded in a sequence of lower highs and lower lows. The break of support seen this week at 153.8p suggest we are going to see a continuation lower in the short term. The immediate downside target is at the December 2018 lows of 128p, then below that we are targeting the Brexit vote lows of 110p.
Recommendation: Sell
Sell between 140-160p
Stop: 180p
Target: 128p & 110p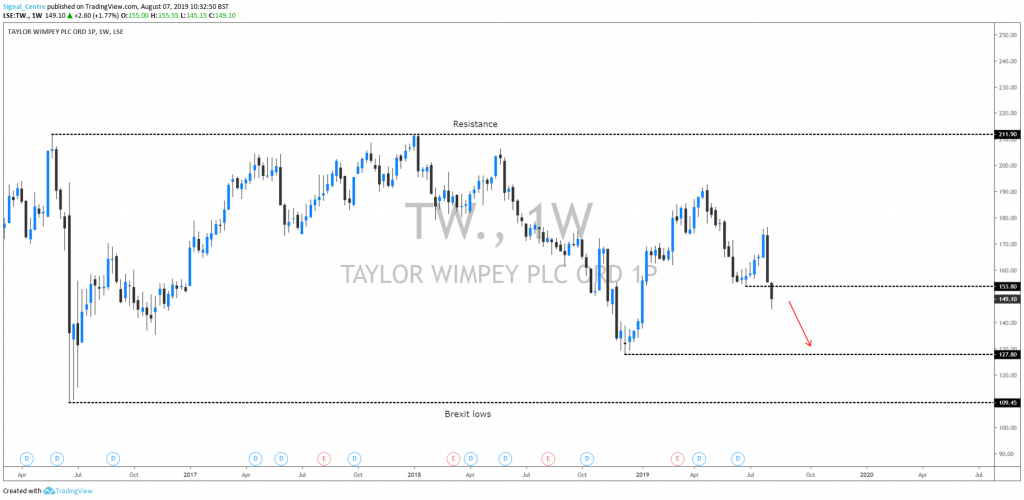 Source: Tradingview.com & LSE.co.uk
Do you want access to trade ideas, signals, education and more all for free? Sign up and deposit with one of our preferred brokers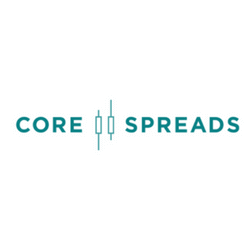 Like our charts? Sign up for free with TradingView.