Trade ideas – 5 Stocks to buy September 2019
Posted: 2nd September 2019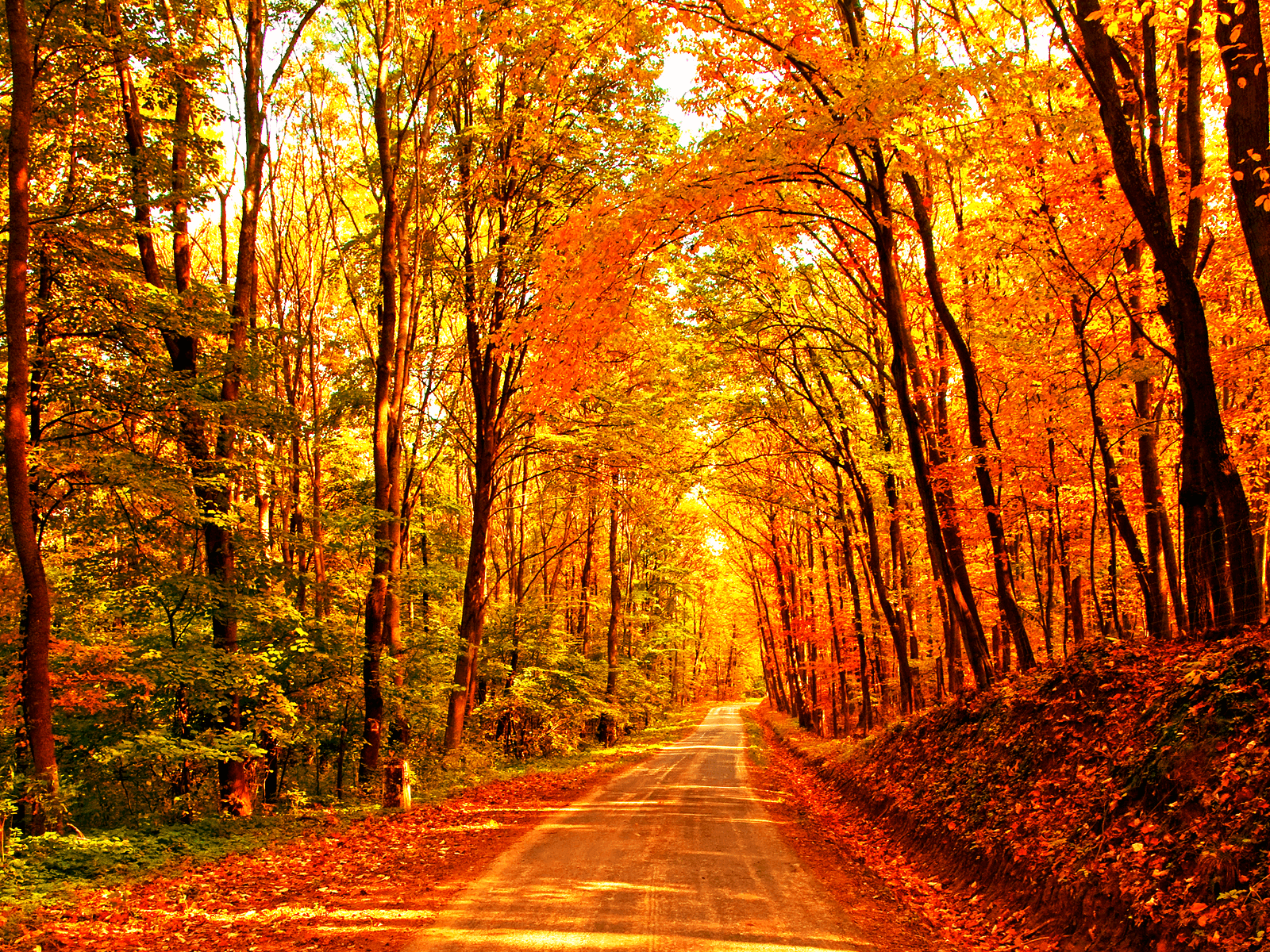 Trade ideas – 5 Stocks to buy in September 2019!
There has been an increase in volatility across global markets in recent weeks due to a combination of factors. The one that is front and center at present is the ongoing trade war between the US and China, which is causing serious levels of uncertainty. There have also been further developments on the Brexit front which has had a big effect on the price of Sterling.
Unfortunately, there is no immediate end in sight to any of these factors at this stage, which means investing will continue to be tricky. The increase in volatility and the price action of GBP does, however, mean that several stocks in the UK are looking increasingly attractive from a technical perspective.
The summer is coming to an end in the UK and this could bring volumes back to the market, which may help settle things in the short term. We believe there is still some value to be had in the equity markets if you look in the right places.
The weekly chart below of the FTSE 100 shows failure at the 78.6% Fibonacci resistance level and the posting of a bearish outside candle. This also led to a break of the uptrend channel that has been in place since the beginning of the year. The market has rallied, although price action on an individual stock basis has been very volatile. The bearish signals on the weekly chart suggest we could be in for more downside over the longer term. For the month ahead, however, it's possible that this corrective move higher continues to re-rest the underside of the broken channel at the 61.8% Fibonacci resistance at 7460.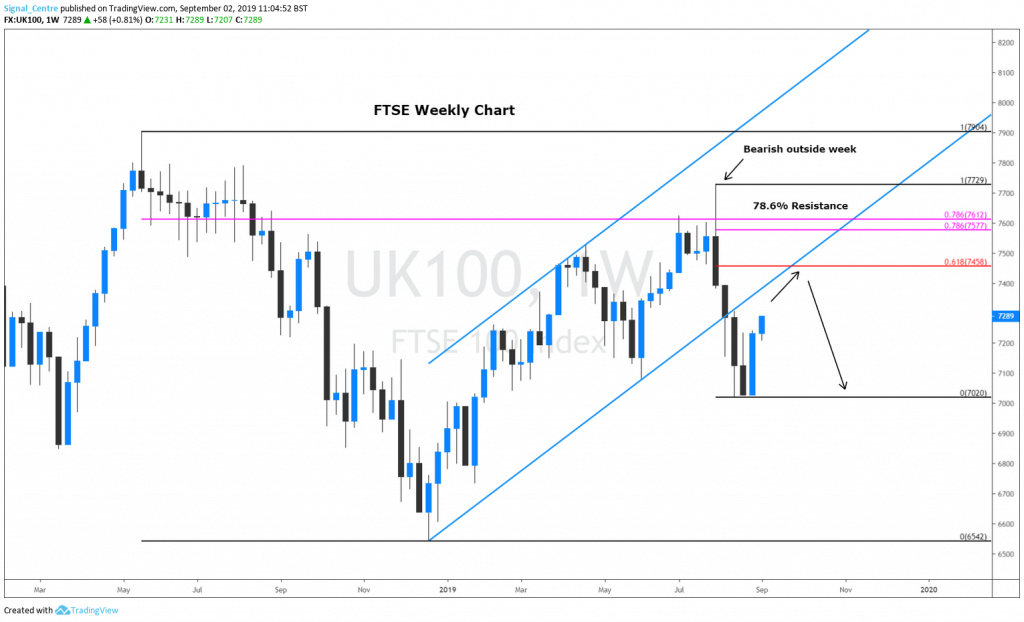 We have put together a list of 5 stocks we think could outperform in the month ahead.
Trade idea – BUY – AUTO TRADER (AUTO)
Auto Trader Group plc is a digital automotive marketplace. The Company is engaged in the business of buying and selling new and used vehicles. The Company also operates similar business in Ireland through its Website carzone.ie.
Fundamentals
Auto Trader is forecast to post a rise in earnings of 12% in the current year. This follows three years of consecutive double-digit net profit growth, which suggests its business may be relatively resilient within what is a highly cyclical automotive sector. The company is in a dominant position within its industry with virtually no competition.
Best Broker Target Price: 640p (Liberum Capital 09/07/2019)
Worst Broker Target Price: 414p (JP Morgan Cazenove 17/07/2019)
Technical Analysis
Auto Trader has traded in a corrective channel since reaching all time highs in June this year. The corrective move appears to have stalled around the 38.2% Fibonacci support level which is from the October 2018 lows to the June 2019 all time highs. A bullish outside candle has been posted on the daily chart, which is positive for short term sentiment. The break of the corrective channel indicates the move lower has come to an end the long term trend can now reassert itself.
Recommendation: Buy
Buy between 515-540p
Stop: 505p
Targets: 600p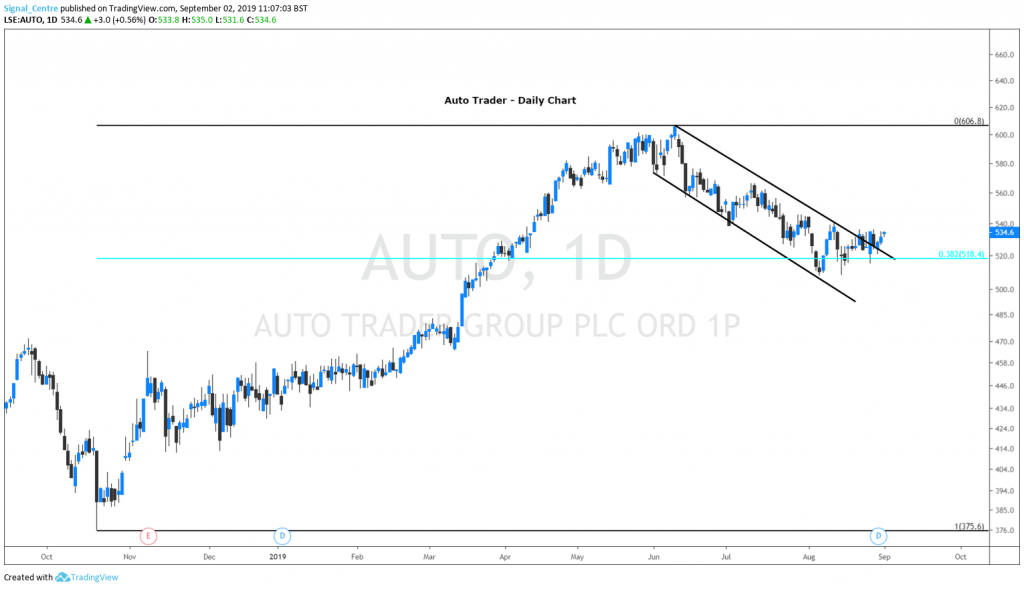 Trade idea – BUY – BAE SYSTEMS (BA.)
BAE Systems plc is a defense, aerospace and security company. The Company operates through five segments. The Electronic Systems segment consists of the Company's United States and United Kingdom-based electronics activities.
Fundamentals
The company boasts special relationships with both the US and Saudi Arabia. The company has provided support and equipment to the Saudi armed forces for several decades now. The Middle East is a very important revenue stream and the company is actively trying to diversify its client list. BAE has not cut its dividend for 20 years and continues to maintain a dividend yield in excess of 4%.
Best Broker Target Price: 690p (Deutsche Bank 15/07/2019)
Worst Broker Target Price: 530p (JP Morgan Cazenove 17/07/2019)
Technical Analysis
BAE Systems share price broke out of a large range in July 2019 to confirm a bottom pattern. The shares subsequently move higher towards a high of 570p. In recent weeks there has been evidence of profit taking as the shares have dipped back to the breakout level to confirm support. So far, the support level is holding, which we believe is an indication of fresh buying interest. Further upside is expected over the medium term.
Recommendation: Buy
Buy between 530-545p
Stop: 520p
Targets: 615p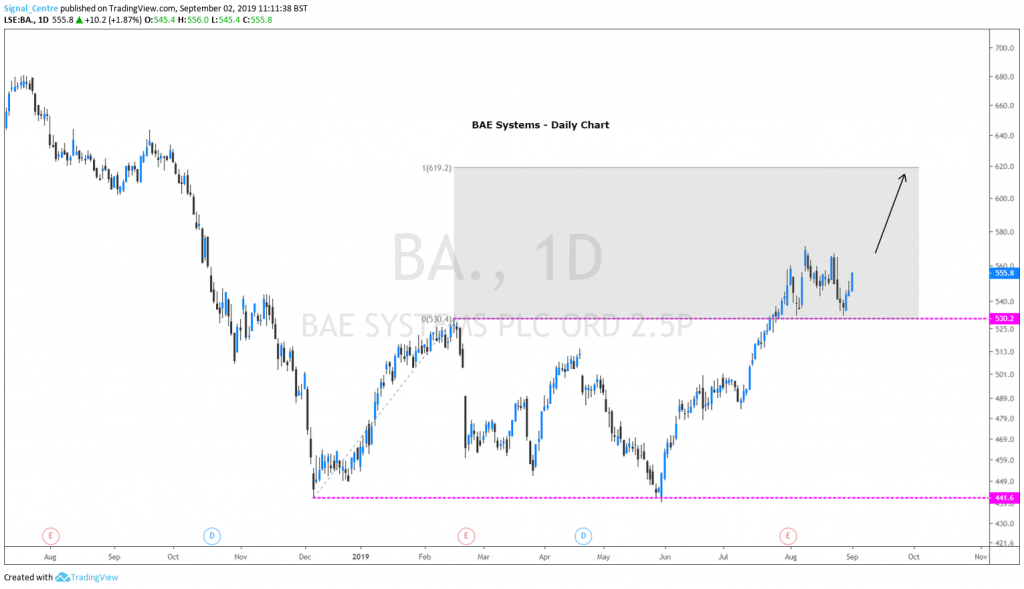 Trade idea – BUY – GREGGS (GRG)
Greggs plc is a United Kingdom-based bakery food on-the-go retailer. The Company's products and services consist of a range of fresh bakery goods, sandwiches and drinks in its shop.
Fundamentals
The success story of Greggs is quite remarkable with the shares rising significantly over a 5-year period. The baker recently delivered an 'exceptional trading performance', total sales were up 14.7% and like-for-like sales were up 10.5%. The introduction of vegan sausage rolls has been a massive success and no doubt brought new customers to stores across the country. The recent decline looks like a decent opportunity to buy.
Best Broker Target Price: 2300p (UBS 28/08/2019)
Worst Broker Target Price: 1780p (Berenberg Bank 16/05/2019)
Technical Analysis
The long-term chart of Greggs shows a spectacular uptrend. The recent dips from the highs of 2496p has been uncharacteristic and could present a fantastic opportunity to buy. Corrections are normal for share prices and following this recent bout of profit taking the shares now look more attractive. The close above the 10EMA on the 28th August 2019 could be a signal of bullish momentum returning. A move back to the highs to reassert the long-term trend is expected.
Recommendation: Buy
Buy between 2000-2100p
Stop: 1895p
Target: 2495p
Trade idea – BUY – TESCO (TSCO)
Tesco PLC (Tesco) is a retail company. The Company is engaged in the business of Retailing and associated activities (Retail) and Retail banking and insurance services.
Fundamentals
It's been a tough few months for Tesco share holders with the shares having slumped over 13% from the 2019 high. The business has embarked on a massive overhaul over the past 5 years to make the operation a lot more efficient, which has put the company in a good position overall. The operating margin is continuing to rise, and management believe 4% is achievable in the short term. The company looks set to maintain its position in the market and continue to grow its earnings.
Best Broker Target Price: 285p (Deutsche Bank 19/06/2019)
Worst Broker Target Price: 230p (Goldman Sachs 02/04/2019)
Technical Analysis
2019 started off so well for Tesco share holders with the shares rising from 187p to 254p in the space of just over 4 months. The recent decline from those highs has not been so impressive, but some support appears to be forming around the 61.8% Fibonacci support level at 212.7p. There have been a number of bullish candle around this price, which is an indication that buyers are returning.
Recommendation: Buy
Buy between 215-225p
Stop: 210p
Target: 250p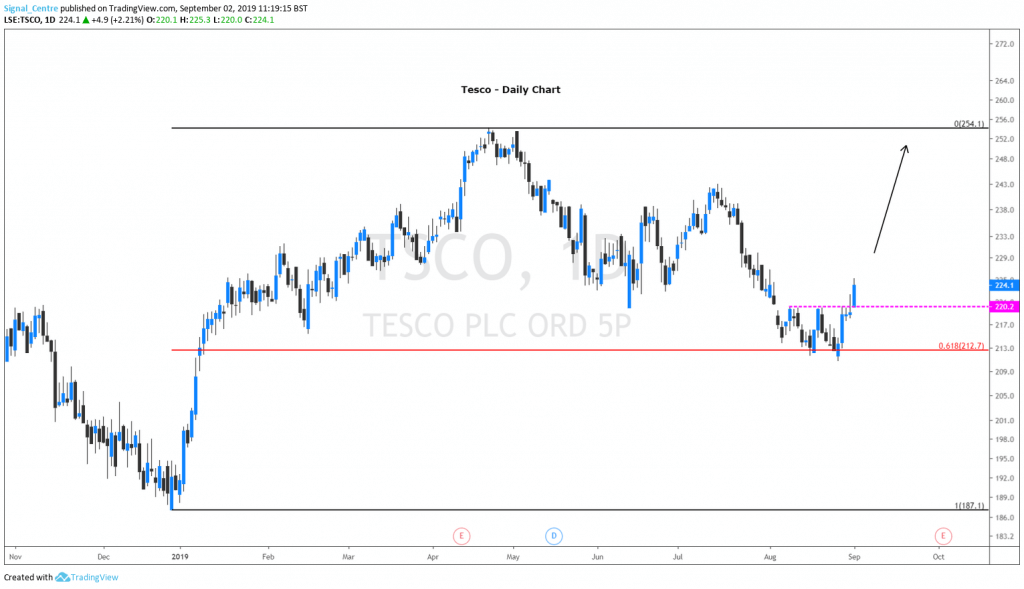 Trade idea – BUY – VODAFONE (VOD)
Vodafone Group Plc is a telecommunications company. The Company's business is organized into two geographic regions: Europe, and Africa, Middle East and Asia Pacific.
Fundamentals
Vodafone's share price has drifted sideways to lower for the past few years, but all of a sudden, the price has risen almost 25% in 3 months. This follows the first cut of the dividend since 1990 back in May 2019. The most recent update was a positive one with the company stating they are confident in delivering their revised earnings target. They also planned to raise around €20million from the sale of 60,000 mobile masts through a potential IPO of firm TowerCo. This would create Europe's largest power company.
Best Broker Target Price: 250p (Deutsche Bank 09/08/2019)
Worst Broker Target Price: 140p (Berenberg Bank 19/06/2019)
Technical Analysis
The share price gapped up through the long-term downtrend channel on the May results. This then led to the completion of a large bottom pattern on the break above resistance at 147.8p. The projected upside move from the bottom pattern comes in at 171.44p. Beyond that there is scope for significantly more upside according to the 250p price target from Deutsche Bank that was published on the 9th August 2019.
Recommendation: Buy
Buy between 150-157p
Stop: 143.5p
Target: 175p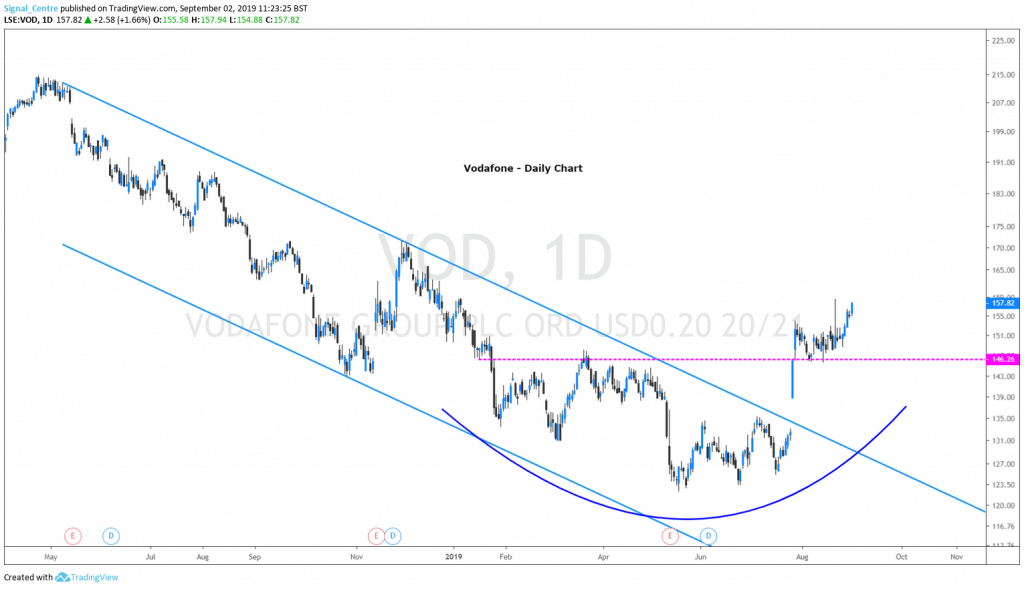 Do you want access to trade ideas, signals, education and more all for free? Sign up and deposit with one of our preferred brokers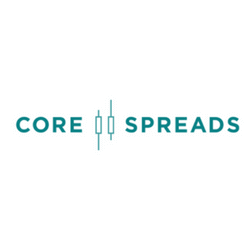 Like our charts? Sign up for free with TradingView.