What is a trade war?
Investopedia Definition…
A trade war is a side effect of protectionism that occurs when one country (Country A) raises tariffs on another country's (Country B) imports in retaliation for Country B raising tariffs on Country A's imports. A tariff is a tax imposed on imported goods and services.
Trade wars can commence if one country perceives another country's trading practices to be unfair or when domestic trade unions pressure politicians to make imported goods less attractive to consumers. Trade wars are also a result of a misunderstanding of the widespread benefits of free trade.
Current situation
The worlds two biggest economies look set to go to war, not a real war but the beginning of a trade war, and no-one knows how bad it could get.
Back in March, President Trump announced his intention to impose a 25% tariff on steel and a 10% tariff on aluminium imports. This applied to Canada, Mexico and Europe. This was the beginning of the so called Trade war.
As of Friday (6th July 2018) a list of Chinese products were hit with a 25% tariff, therefore making them 25% more expensive for US consumers.
Key goods such as semiconductor chips, assembled in China, which are found in many everyday products like smart phones, tablets and televisions. This would also extend to plastics, nuclear reactors and dairy making equipment.
In retaliation to this move from the US, China as gone after American agriculture. American farmers are a political vote that President Trump relies upon heavily. Around 90% or the 545 products China is placing a tariff on are from the agriculture sector.
The automotive sector was next on the list from China, with companies such as Tesla and Chrysler, companies who manufacture in the US. This would mean a large dent to sales for each company. China have also targeted Medial products, coal and petroleum.
We are seeing more evidence of this escalating with the latest round of sanctions being threatened. On the 11th July, President Trump proposed fresh tariffs on $200 billion in Chinese goods. The Chinese commerce ministry said it was 'shocked' and would be filing a complaint to the World Trade Organisation. In a statement it called the US actions 'completley unacceptabe', we can expect to see some retaliation in the coming days. This is certain to keep volatility levels elevated across global equity markets.

Who wins and who loses?
Winners:
US Domestic steel and Aluminium manufacturers: Trump announced a 25% tariff on imported steel and 10% on Aluminium from China back in March. The objective was to protect domestic manufactures by increasing production and creating more jobs.
Meat processors: Soybeans have slumped on the tariffs but US meat processors have been given a boost. New tariffs mean that feedstock soy beans will be cheaper.
Chinese consumers: From the list of 545 products, China has carefully selected US goods that can be replaced domestically. This should ensure that the impact on the economy is controllable
Losers:
US Consumers: Consumers in the US are more reliant upon imports frim China, than Chinese consumers are from the US. This could mean increased inflationary pressures in the US.
Heavy equipment manufacturers: The list of goods that will be hit with a 25% tariff includes aircraft. Boeing earned 13% of its revenue from China last year. Other companies include Caterpillar, which has more than 20 facilities in China.
Tech companies: China is an assembly hub for electronic devices. Many US tech companies have Chinese factories, this includes tech giant Apple. Technology has been a huge driving force in the US Bull market. Any threats to the tech sector could have wider impacts on the strength of the equity markets.
What should you do?
There is a threat of the trade war escalating, the tit-for-tat and the knee jerk retaliations from China and the US could spread to Europe and beyond. In which case it could be argued that the safest place to invest at present is in our domestic market and in companies that operate solely in the UK.
There will be big winners from the Trade war, but there will also be big losers. Trying to speculate on these outcomes feels like a dangerous game to be playing at present.
Here are some domestic stocks we like the look of at present.
Centrica (CNA)
Centrica PLC operates as an integrated energy company offering a wide range of home and business energy solutions. The Company sources, generates, processes, stores, trades, saves, and supplies energy and provides a range of related services.
Centrica has been steadily moving higher from the lows reached in February this year, trading within a wedge formation. The shares have now broken to the upside of this pattern and appear to have completed a large bottom pattern. The break of the long-term downtrend suggests its fortunes could be about to improve over the medium to long term. We believe a correction towards 200p could be seen in the coming months and would suggest looking to invest on any pullbacks towards 150p. The shares also pay a dividend of over 7%.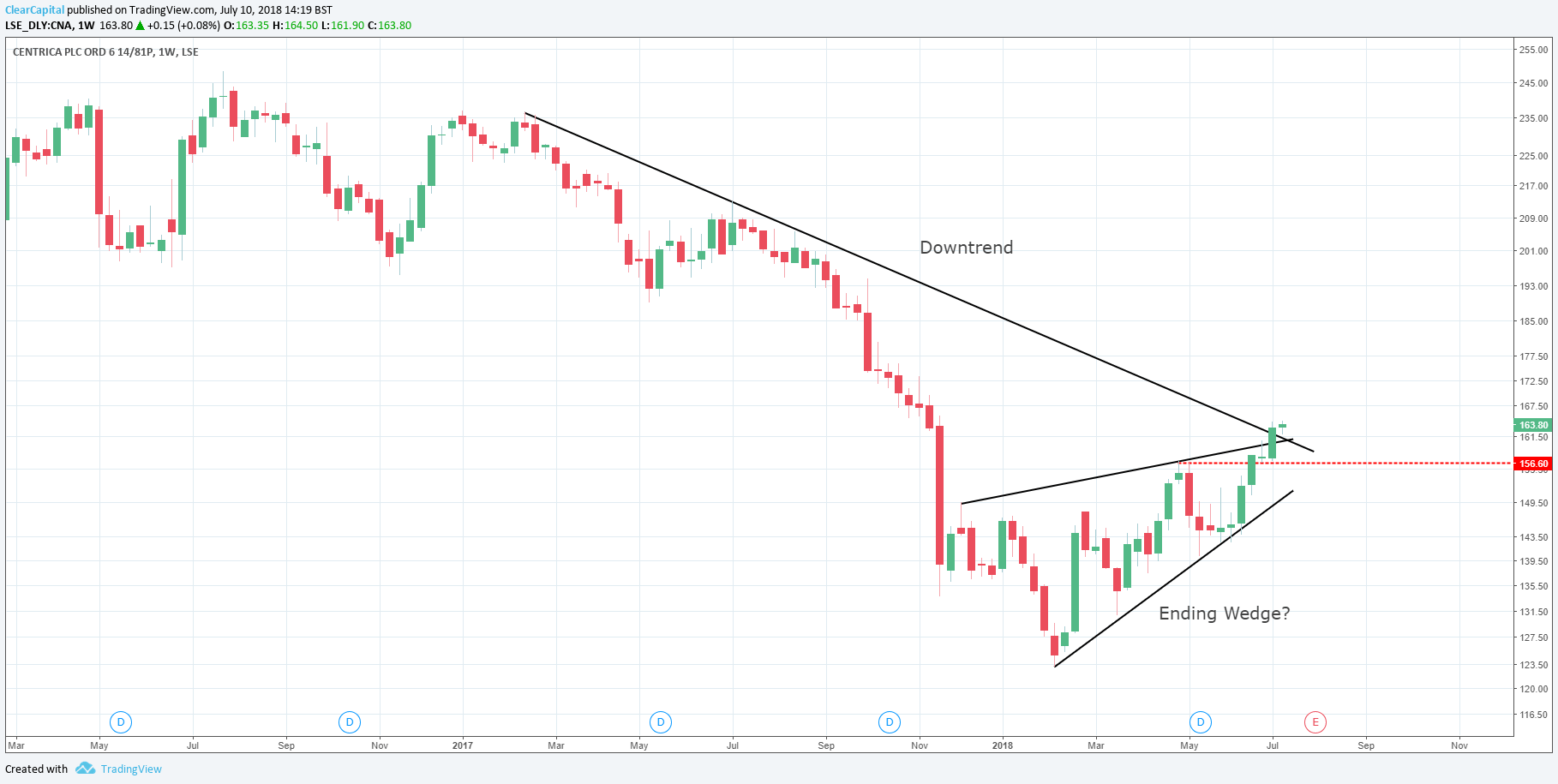 ITV (ITV)
ITV PLC provides broadcasting services. The Company produces and distributes content on multiple platforms. ITV serves customers in the United Kingdom.
ITV is emerging from a large bottom pattern and has also broken up through the long-term downtrend resistance line in the process. The bottom formation has a measured move target of 218.9p, which represents excellent upside potential. We expect this will take a few months to mature, but the signs at present are encouraging. There seems to have been a shift towards more domestic names in the main index and investors worry over the trade war escalating.
We expect to see further upside from ITV over the medium to long term and would recommend accumulating shares on any pullbacks towards 175p, looking for an upside target close to 220p.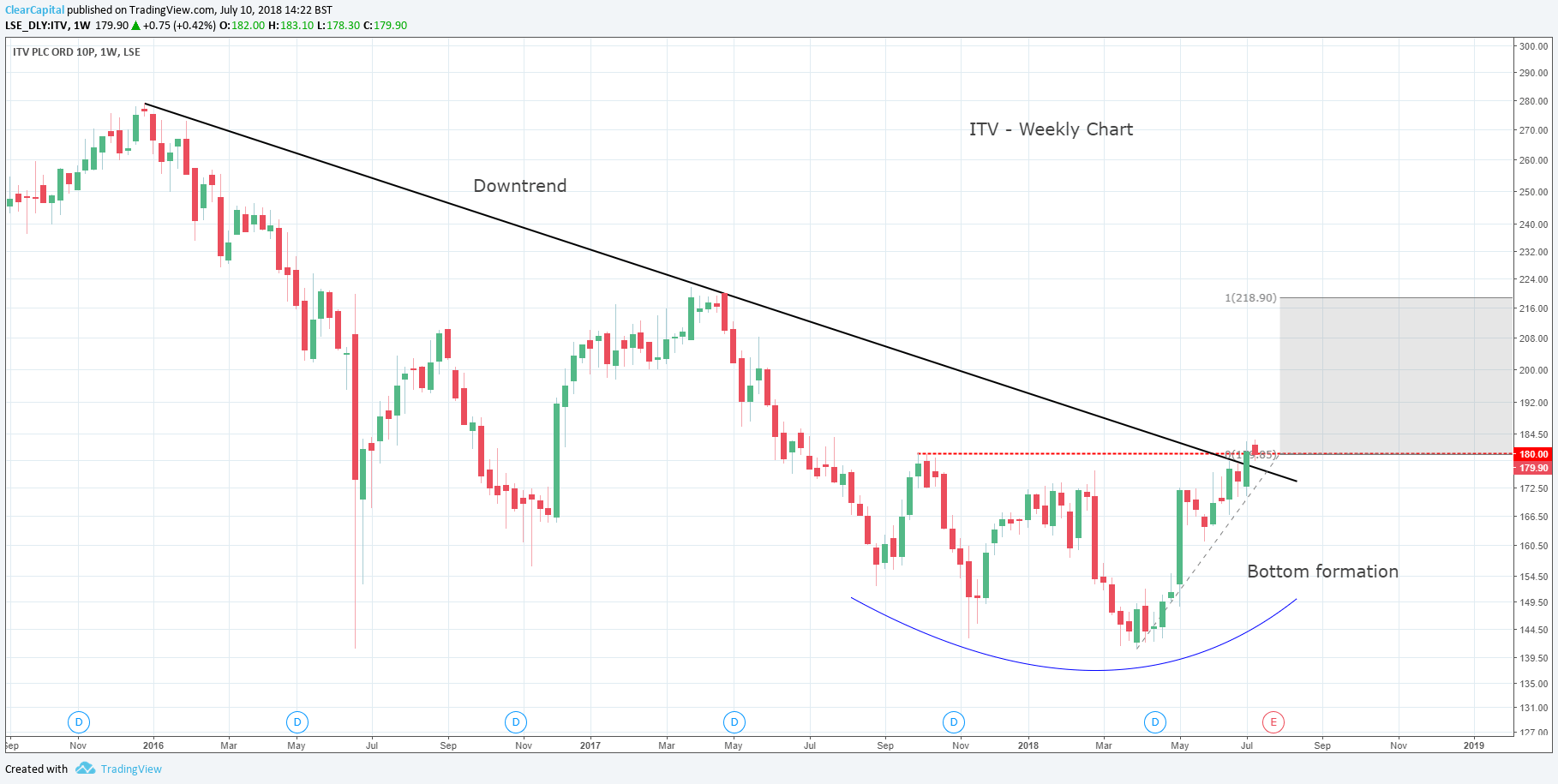 Next (NXT)
Next Plc conducts retailing, home shopping, and customer services management operations. The Company's retail stores sells ladies, men, and children wears, as well as housewares.
Next is rebounding in aggressive fashion following a couple of uncharacteristic profit warnings. The share had been a darling of the stock market for many years until it warned on its profits back in 2016. The rebuilding of investor confidence has been on going and we have now seen a large base formation complete with the move above 5226p. There has also been a second bottom formation complete on a move above 5700p. This provides us with 2 upside targets over the medium term at 6874p and 7832p. Both offer excellent reward versus risk from current levels. Further upside is expected, and we recommend buying pullbacks towards 5700p.