Good morning and welcome to episode 728 of 'Talking Bull'. In this video/podcast we cover the main headlines and what to expect from the day ahead. 
We take a technical look at key markets that are likely to be impacted by today's events. Also, we participate in a 'Gun to the head' challenge where each of us calls a live trade. These will expire at 9pm tonight and we will keep track of the progress over time.
We hope you enjoy it!
For a selection of free educational content, join our Discord server at – https://discord.gg/Db4UWVFvF6
Show notes:
Steve was onside 0.90R on Bitcoin. Joe was onside 0.51R on GBPJPY.
We have included an illustration based on a £1000 account. This will follow the combined return of our morning trades by risking 1% of the trading capital per trade. The 1% risk is a variable monetary amount and will rise and fall based on the success of the calls.
We are currently up 198.19% collectively since we began recording Talking Bull on the 30th October 2019.
News
Limited Brainard pushback
Fed Governor Brainard stated that it will be appropriate soon to move to a slower pace of interest rate hikes. By moving at a more deliberate pace, the Fed can assess more data and better adjust the path of rates. She added that the most recent data suggests core PCE prices might be showing some reduction.
The comments overall had a dovish tinge with markets expecting that there might have been a stronger push back against the sharp shift in market expectations.
US inflation expectations increase
The latest New York survey recorded an increase in 1-year inflation expectations to 5.9% for October from 5.4% in September with 3-year expectations at 3.1% from 2.9% previously.
Mixed ECB commentary
ECB council member Panetta stated that a tight monetary policy is needed to ensure that inflation does not become entrenched and must increase interest rates further, although he added that it must not act too fast to unnecessarily exacerbate a downturn.
Dollar rallies sold
The dollar stabilised over the past 24 hours with the currency index securing a tentative recovery from 12-week lows. CFTC data recorded a decline in long, non-commercial dollar positions to a 12-month low, limiting scope for further position adjustment.
The dollar index retreated again in early Europe on Tuesday.
Hawkish SNB rhetoric continues
The Swiss National Bank Chair Jordan reiterated that it was likely that the central bank would need to act again as inflation remains elevated. He added that there's a high probability that the bank will have to tighten policy again at the December meeting.
Mixed UK jobs data
The UK unemployment rate edged higher to 3.6% in the three months to September from 3.5%, but there was a further solid increase in employment for October.
Headline average earnings increased 6.0% in the year to September from 6.1% previously while underlying earnings increased 5.7% from 5.5%.
Data Today
10.00: German ZEW index
13.30: US producer prices
13.30: US New York Empire survey
07.00 (Wed): UK consumer prices report
Key events over the next week
November 16th: US retail sales
Gun to head challenge – Update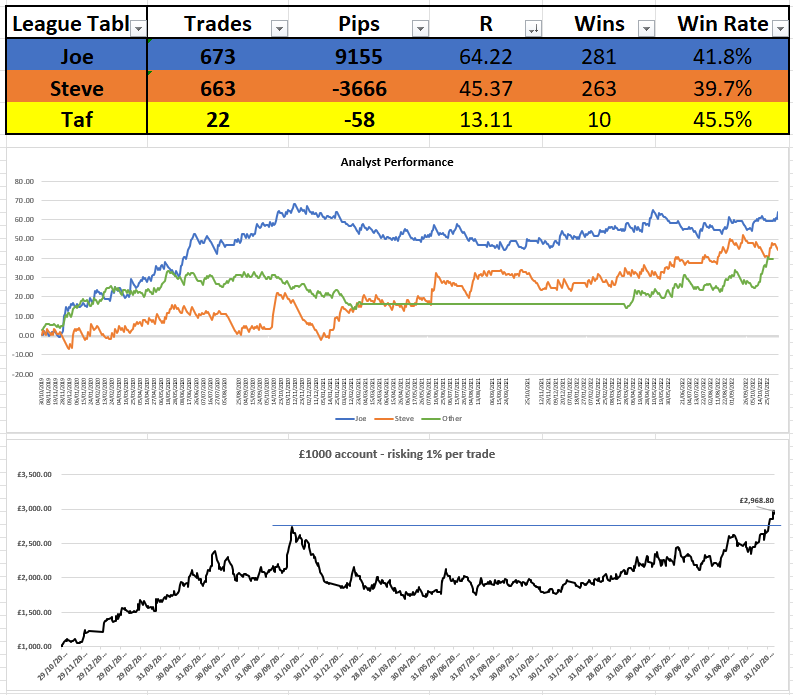 Today's trade idea

Have a great week everyone.
Get award-winning FCA regulated signals and levels on over 30 markets, as well as education resources so you never trade alone.