Good morning and welcome to episode 659 of 'Talking Bull'. In this video/podcast we cover the main headlines and what to expect from the day ahead. 
We take a technical look at key markets that are likely to be impacted by today's events. Also, we participate in a 'Gun to the head' challenge where each of us calls a live trade. These will expire at 9pm tonight and we will keep track of the progress over time.
We hope you enjoy it!
For a selection of free educational content, join our Discord server at – https://discord.gg/Db4UWVFvF6
Show notes:
Steve made 0.32R on Bitocin. Jamie was onside 0.04R on NZDJPY and Joe was offside 0.19 on DAX.
We have included an illustration based on a £1000 account. This will follow the combined return of our morning trades by risking 1% of the trading capital per trade. The 1% risk is a variable monetary amount and will rise and fall based on the success of the calls.
We are currently up 131.39% collectively since we began recording Talking Bull on the 30th October 2019.
News
US manufacturing cost pressures ease
The US ISM manufacturing index edged lower to 52.8 for July from 53.0 previously, but slightly above consensus forecasts of 52.3. Production growth slowed while orders were in contraction territory for the second successive month. There was also a marginal contraction in employment for the third successive month.
The prices index declined to 60.0 from 78.5 previously which the fourth-largest monthly decline on record and the steepest rate of decline since June 2010. This was also the lowest reading since September 2020.
Although the data was slightly stronger than expected, the decline in cost pressures was the main focus within the survey.
US yields decline further
Following the US ISM prices data, the 10-year yield dipped to around 2.60% and the lowest reading for 16 weeks. There was also a sharp decline in oil prices on the day which reinforced the mood of optimism over underlying inflation trends. There was also a slight steepening of the yield curve inversion even though the 2-year yield dipped to just below 2.85%.
US yields declined further on Tuesday with the 10-year yield at 16-week lows around 2.55%.
Dollar under further pressure
Lower yields were a crucial element in undermining the US currency with particular pressure against the yen. The dollar index overall dipped to 4-week lows
USD/JPY also dipped sharply to 4-week lows below 130.50 before a limited correction.
Euro-Zone data continues to cause concern
German retail sales declined 2.6% for June compared to expectations of a small increase with a year-on-year decline of 8.8%. The final reading for the July Euro-Zone PMI manufacturing index was revised slightly higher to 49.8 from 49.6, but both Spanish and Italian figures were in contraction territory for the month.
Taiwan tensions in focus
Political considerations were more important on Tuesday with important tensions surrounding Taiwan amid the planned visit by US House Speaker Pelosi. China continued to warn over negative consequences and risk conditions were brittle.
Taiwan concerns also contributed to gains for the yen in Asia on Tuesday.
RBA hikes rates 50 basis points
The Reserve Bank of Australia (RBA) increased interest rates by a further 50 basis points to 1.85% which was in line with market expectations.
The RBA expects to increase rates further, but there were comments that rates are not on a pre-determined path which dampened market expectations over further aggressive rate hikes and the Australian dollar lost ground.
Data Today
15.00: US JOLTS job-openings data
Key events over the next week
August 3rd: US ISM non-manufacturing index
August 4th: Bank of England policy decision
August 5th: US employment report
August 5th: Canada employment report
Gun to head challenge – Update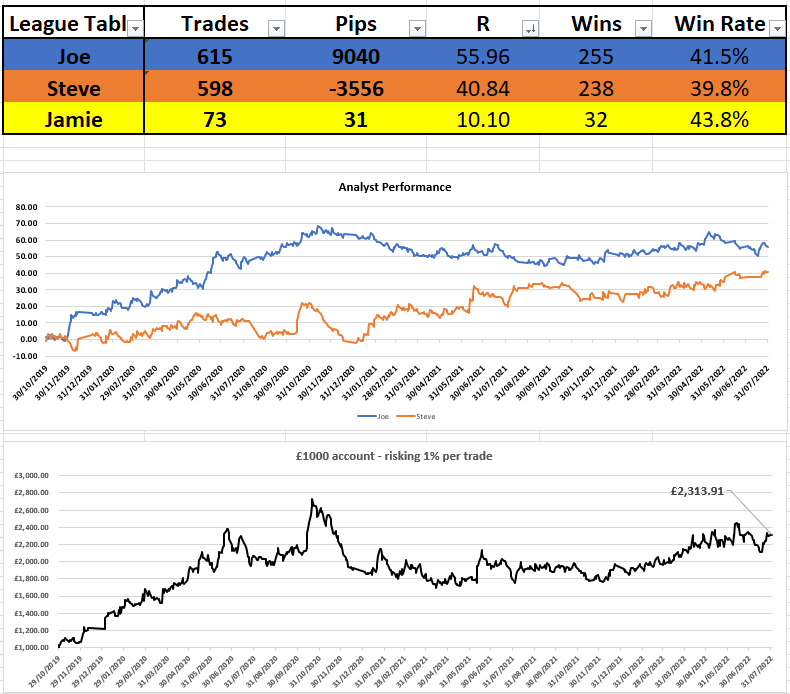 Today's trade idea
Have a great week everyone.
Get award-winning FCA regulated signals and levels on over 30 markets, as well as education resources so you never trade alone.