Good morning and welcome to episode 681 of 'Talking Bull'. In this video/podcast we cover the main headlines and what to expect from the day ahead. 
We take a technical look at key markets that are likely to be impacted by today's events. Also, we participate in a 'Gun to the head' challenge where each of us calls a live trade. These will expire at 9pm tonight and we will keep track of the progress over time.
We hope you enjoy it!
For a selection of free educational content, join our Discord server at – https://discord.gg/Db4UWVFvF6
Show notes:
Jamie was offside 0.42R on Natrual Gas. Steve was onside 0.04R on Oil. Joe was up 0.73R on NZDCAD.
We have included an illustration based on a £1000 account. This will follow the combined return of our morning trades by risking 1% of the trading capital per trade. The 1% risk is a variable monetary amount and will rise and fall based on the success of the calls.
We are currently up 159.15% collectively since we began recording Talking Bull on the 30th October 2019.
News
Euro-Zone confidence slides
The Euro-Zone Sentix business confidence index declined further to -31.8 for September from -25.2 previously which was weaker than the expected reading of -27.5 and the weakest reading since May 2020.
According to Sentix, the economic situation in the Eurozone clearly deteriorated again. It added that signs in Europe have been pointing to a considerable recession for some time and it added that there are now increasing signs of a corresponding development at the global level.
European energy fears continue
European gas prices retreated from intra-day highs which provided marginal relief, but there were still important concerns surrounding energy prices.
Gazprom stated that flows through the Nord-Stream pipeline would not resume until Siemens repaired faulty equipment.
Yen remains on the ropes
Japanese Finance Minister Suzuki warned over recent forex moves, but the rhetoric had no impact in reversing negative yen sentiment with sharp losses as yield spreads dominated Japanese currency moves.
USD/JPY strengthened to fresh 24-year highs just above the 141.00 level.
Hawkish talk from BoE's Mann
Bank of England Monetary Policy Committee member Mann stated that a drift in medium-term inflation expectations was already apparent.
She added that it was better to act forcefully and fast to keep expectations in check rather than adopting a gradual approach.
Substantial UK fiscal support expected
Following the appointment of Truss as the new Prime Minster, there are increased expectations that there will be a very substantial fiscal package to address the energy crisis with stronger speculation of a package of over £100bn to freeze energy costs.
RBA hikes rates again
The Reserve Bank of Australia increased interest rates by a further 50 basis points to 2.35% which was in line with market expectations.
There was little change in forward guidance with the bank suggesting that rates were ow in neutral territory.
Data Today
15.00: US ISM non-manufacturing index
02.30 (GDP) Australia GDP
Key events over the next week
September 7th: Bank of Canada policy decision
September 8th: ECB policy decision
September 9th: Canada employment report
Gun to head challenge – Update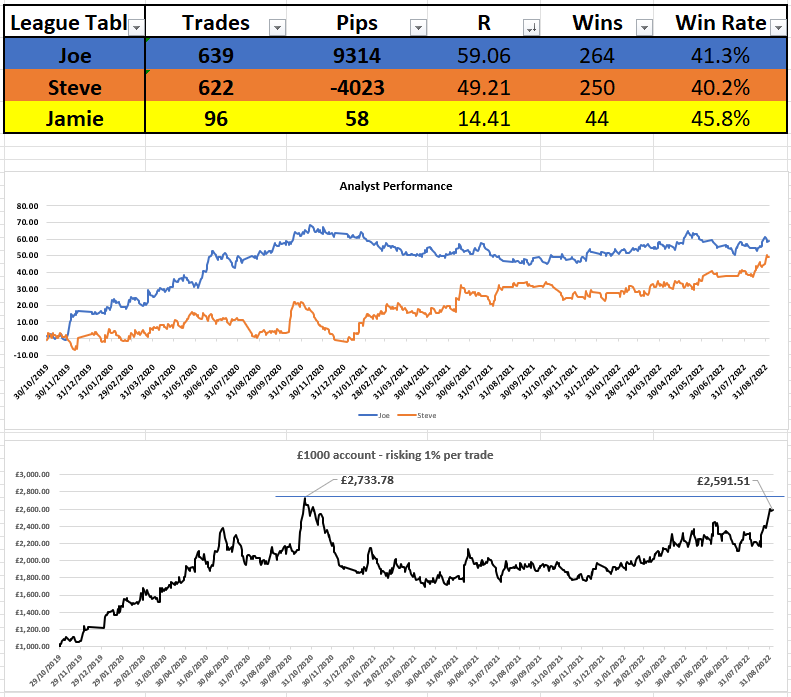 Today's trade idea

Have a great week everyone.
Get award-winning FCA regulated signals and levels on over 30 markets, as well as education resources so you never trade alone.