Good morning and welcome to episode 713 of 'Talking Bull'. In this video/podcast we cover the main headlines and what to expect from the day ahead. 
We take a technical look at key markets that are likely to be impacted by today's events. Also, we participate in a 'Gun to the head' challenge where each of us calls a live trade. These will expire at 9pm tonight and we will keep track of the progress over time.
We hope you enjoy it!
For a selection of free educational content, join our Discord server at – https://discord.gg/Db4UWVFvF6
Show notes:
Steve hit target on FTSE for a 3R win. Taf was onside 0.51R on Bitcoin. Joe was onside 0.18R on Gold. New high on the P&L!
We have included an illustration based on a £1000 account. This will follow the combined return of our morning trades by risking 1% of the trading capital per trade. The 1% risk is a variable monetary amount and will rise and fall based on the success of the calls.
We are currently up 174.04% collectively since we began recording Talking Bull on the 30th October 2019.
News
Euro-Zone in recession territory
The Euro-Zone manufacturing index declined to a 29-month low of 46.6 for October from 48.4 in September and below expectations of 47.8 while the services-sector index declined slightly to 48.2 from 48.8 and a 20-month low, but in line with market expectations.
There was a sharp slowdown in new orders growth while business confidence remained weak. Supply-side shortages eased, but there was still strong upward pressure on prices with much stronger than pre-pandemic inflation pressures.
The data reinforced unease over the Euro-Zone outlook.
US business confidence also vulnerable
The US PMI manufacturing index retreated to a 28-month low of 49.9 for October from 52.0 the previous month and below consensus forecasts of 51.0. The services-sector index dipped to 46.6 from 49.3 and significantly below expectations of 49.2. This was a two-month low for the index and the fourth successive reading below the 50.0 level. New orders edged back into contraction territory with a sharp decline in exports.
There was a slightly increased cost burden, but output charges increased at the slowest rate since December 2020.Significantly, there was a sharp decline in business confidence for the month to the lowest level for over two years and one of the weakest readings on record.
US yields edge higher
Despite the weaker than expected US data, Treasuries were unable to make further headway and the 10-year yield settled slightly higher just above the 4.20% level.
Higher yields limited the scope for significant dollar selling during the day.
Sunak to be appointed as PM
After being the only valid nominee in the Conservative Party election, former Chancellor Sunak will formally be appointed as Prime Minister on Tuesday.
UK recession fears intensify
The latest UK PMI business confidence data recorded a decline in the manufacturing sector to a 29-month low of 45.8 from 48.4 previously and below consensus forecasts of 47.9. The services-sector index also posted a 21-month low of 47.5 from 50.0 and also below market expectations of 49.6.
There was a slide in new orders on the month and overall business confidence slumped to 30-month lows amid underlying fears over the outlook.
There was a net easing of cost pressure and the rate of increase for prices charged retreated to the lowest level since August 2021.
SNB continues to withdraw liquidity
Swiss sight deposits posted another sharp decline to CHF597.6bn in the latest week from CHF619.8bn the previous week and the fourth successive sharp decline in deposits as the National Bank continued to drain liquidity from domestic money markets.
Data Today
09.00: German IFO index
15.00: US consumer confidence
01.30 (Wed): Australia consumer prices
Key events over the next week
October 26th: Bank of Canada policy decision
October 27th: ECB policy decision
October 28th: Bank of Japan policy decision
Gun to head challenge – Update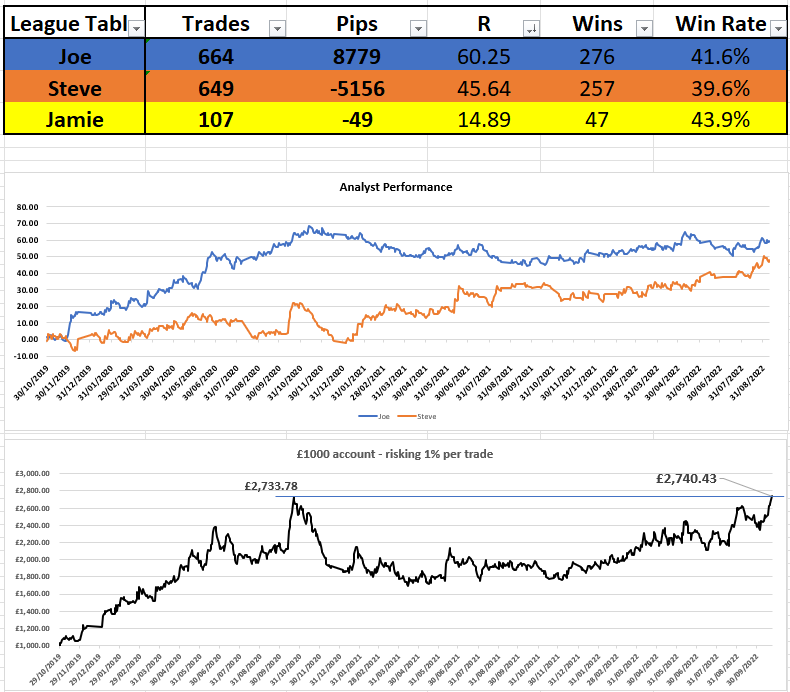 Today's trade idea

Have a great week everyone.
Get award-winning FCA regulated signals and levels on over 30 markets, as well as education resources so you never trade alone.