Good morning and welcome to episode 476 of 'Talking Bull'. In this video/podcast we cover the main headlines and what to expect from the day ahead. 
We take a technical look at key markets that are likely to be impacted by today's events. Also, we participate in a 'Gun to the head' challenge where each of us calls a live trade. These will expire at 9pm tonight and we will keep track of the progress over time.
We hope you enjoy it!
Show notes:
Joe was stopped out on GBPNZD and Steve was stopped out on ChinaA50.
We have included an illustration based on a £1000 account. This will follow the combined return of our morning trades by risking 1% of the trading capital per trade. The 1% risk is a variable monetary amount and will rise and fall based on the success of the calls.
We are currently up 87.93% collectively since we began recording Talking Bull on the 30th October 2019.
News
Two more power suppliers in the U.K. have collapsed under the weight of surging energy prices, bringing the total to go under since the beginning of August to 12. BP-backed Pure Planet and Colorado Energy, which serve a combined 250,000 customers, announced they went out of business on Wednesday. The sector's woes are far from over, with a Glencore-backed gas supplier in the U.K. no longer providing gas to utility clients.
Meanwhile, Russian President Vladimir Putin said his country is ready to deliver all of the natural gas that Europe needs, as he blamed the continent's energy crunch on flawed policies. Russia has already boosted shipments to Europe by 15% this year through the end of September and stands ready to increase this further. Surging energy prices come as an opportunity for the Russian president, who wants to press the EU to rewrite some of its gas market rules.
Eight out of 10 companies in the U.K. struggled to recruit last month even as many of them increased wages, a survey showed. The hiring difficulties are more acute in the catering and hospitality sector, where 92% of companies reported difficulties, according to the British Chambers of Commerce. The shortage reflects the combined effect of Brexit and the pandemic, as payrolls are already above pre-pandemic levels after a record surge in September and job vacancies are at an all-time high.
European stocks are set to follow Asian markets higher, with earnings season helping to highlight economic recoveries despite inflation pressures, including soaring Chinese producer prices. And it's another busy day for earnings today, with Bank of America, Morgan Stanley, Wells Fargo, UnitedHealth and Citigroup all giving the latest figures in the U.S., while TSMC's figures could reverberate as it gives clues regarding the global chip shortage.
Data Today
1.30pm – US initial jobless claims (w/e 9 October): claims to fall to 315K. Markets to watch: USD crosses
4pm – US EIA crude oil inventories (w/e 8 October): stockpiles rose by 3.2 million barrels in the previous week. Markets to watch: Brent, WTI
Gun to head challenge – Update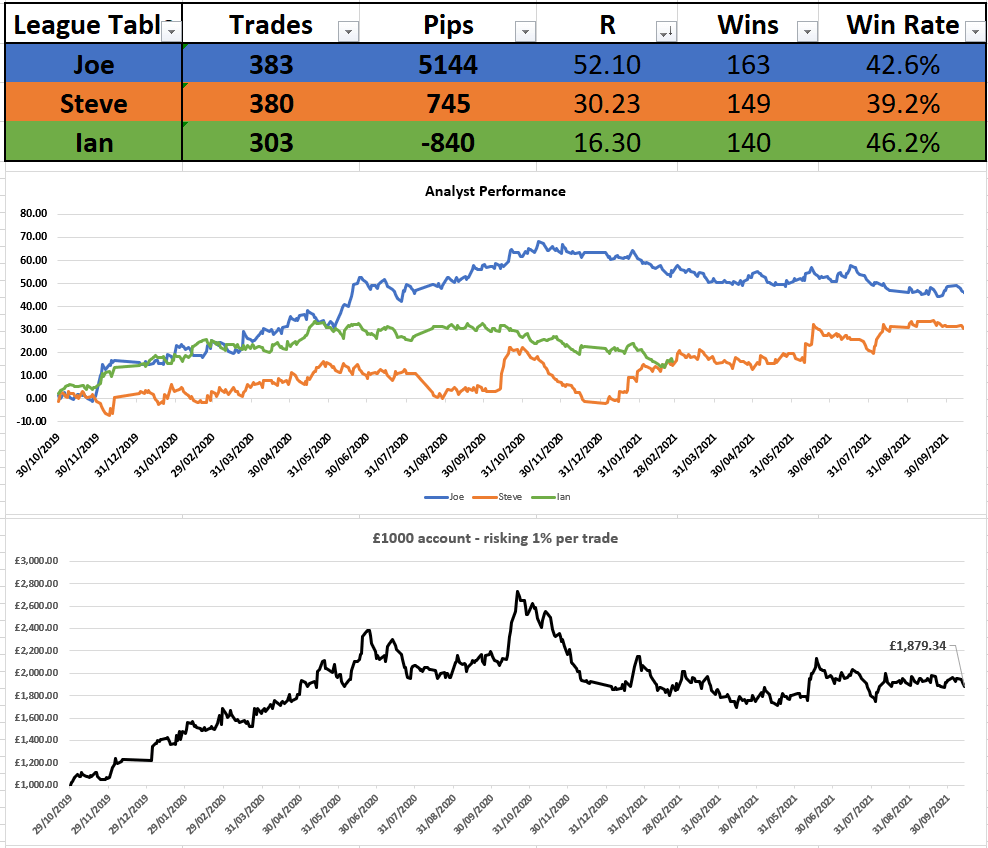 Today's trade idea
Buying Dax 15349 with a stop at 15299 and a target of 15474
Have a great week everyone.
Get award-winning FCA regulated signals and levels on over 30 markets, as well as education resources so you never trade alone.