Good morning and welcome to episode 498 of 'Talking Bull'. In this video/podcast we cover the main headlines and what to expect from the day ahead. 
We take a technical look at key markets that are likely to be impacted by today's events. Also, we participate in a 'Gun to the head' challenge where each of us calls a live trade. These will expire at 9pm tonight and we will keep track of the progress over time.
We hope you enjoy it!
Show notes:
Joe was 0.5R offside on GBPUD. Steve was stopped out on Natural Gas.
We have included an illustration based on a £1000 account. This will follow the combined return of our morning trades by risking 1% of the trading capital per trade. The 1% risk is a variable monetary amount and will rise and fall based on the success of the calls.
We are currently up 79.99% collectively since we began recording Talking Bull on the 30th October 2019.
News
U.K. Prime Minister Boris Johnson is battling to get his premiership back on track as mounting allegations of impropriety against him and his Conservative colleagues spin out of control. Johnson and other Cabinet members faced a fresh barrage of questions over their conduct on Sunday, the 11th straight day of negative headlines against the Tories since the premier's decision to block the suspension of prominent Brexit-backing MP Owen Paterson for paid lobbying.
Austria is putting unvaccinated people under lockdown from today, the most drastic move by a Western European country to slow the latest wave of the coronavirus. European cases reached almost 2 million last week, the most in a single week in the region since the pandemic started. The Netherlands and Latvia have both imposed new measures, while Germany is considering new restrictions after cases rose to record levels. Austria may not be alone in its latest step — the influential leader of Bavaria favors similar measures for Germany, according to media reports.
Day One of the Dubai Airshow has wrapped up, and Airbus is firmly in the lead over rival Boeing, with a mammoth order for 255 narrow-body jets worth over $30 billion. More good news for Airbus came as Emirates openly mulled a fleet re-vamp that could see Boeing's delayed 777X replaced by Airbus's A350 jet. Sales of wide-body aircraft have become scarcer in the pandemic after long-haul travel all but dried up. That's made holding onto sales or even expanding the order book ever more important for Airbus and Boeing — and has given Emirates a powerful bargaining chip.
U.S. President Joe Biden and China's Xi Jinping meet in their first virtual summit tonight, amid tensions between the superpowers over issues including the origin of Covid-19, human rights in Hong Kong and Xinjiang, and the future of Taiwan. While those issues aren't going to be resolved in the meeting, the U.S. says it wants to put "guardrails" on the relationship so it doesn't get worse. A recent joint announcement on climate change shows the two sides can still cooperate on some issues.
Japanese markets have led the gains in a mixed session that brought about a weakness for Chinese and Hong Kong stocks. That comes despite the disappointing -0.8% reading for Japanese growth in Q3. Meanwhile, Chinese weakness came despite relatively impressive data which saw retail sales, and industrial production gain ground. However, fixed asset investment in China does continue to decline, posting the eighth consecutive reduction in growth for that metric. The China theme looks set to continue with Joe Biden and Xi Jinping expected to hold a virtual summit later today. Looking ahead, watch out for eurozone trade balance and the US empire state manufacturing index.
Data Today
1.30pm – US Empire State mfg index (November): index to rise to 20.2. Markets to watch: USD crosses
Gun to head challenge – Update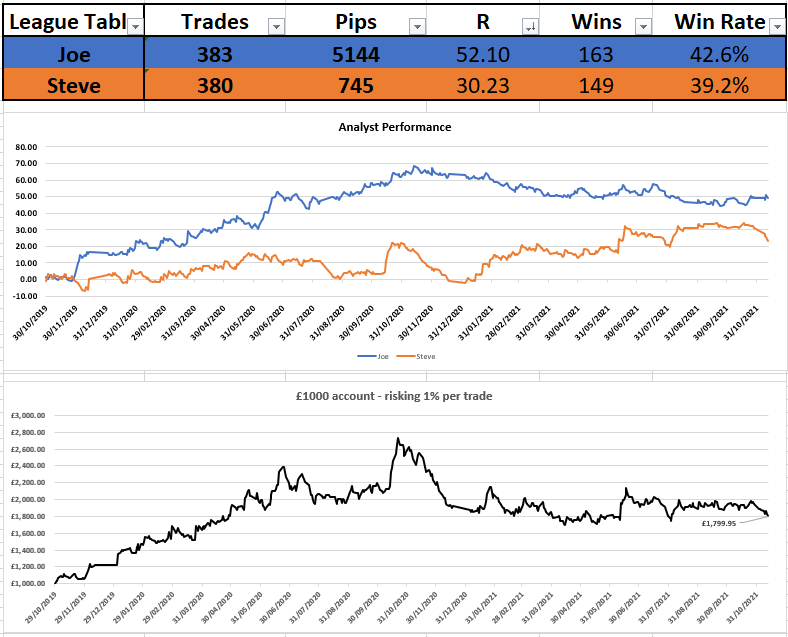 Today's trade idea

Have a great week everyone.
Get award-winning FCA regulated signals and levels on over 30 markets, as well as education resources so you never trade alone.