Good morning and welcome to episode 390 of 'Talking Bull'. In this video/podcast we cover the main headlines and what to expect from the day ahead. 
We take a technical look at key markets that are likely to be impacted by today's events. Also, we participate in a 'Gun to the head' challenge where each of us calls a live trade. These will expire at 9pm tonight and we will keep track of the progress over time.
We hope you enjoy it!
Join us on Telegram for more content – https://t.me/SCFree
Show notes:
Joe was stopped out on EURAUD and Steve made 0.99R on Bitcoin.
We have included an illustration based on a £1000 account. This will follow the combined return of our morning trades by risking 1% of the trading capital per trade. The 1% risk is a variable monetary amount and will rise and fall based on the success of the calls.
We are currently up 78.80% collectively since we began recording Talking Bull on the 30th October 2019.
News
The U.S. State Department has loosened its travel warnings for a series of countries around the world, including France and Germany, in a move that may ease airline restrictions for people wanting to travel overseas. U.S. health officials, meanwhile, are urging vaccinations amid warnings about the potentially more harmful Delta variant, which has become the dominant Covid-19 strain in the U.K. In the U.K. itself, the military has been sent in to virus hotspots to help the highly transmissible strain which is fueling a rise in cases ahead of a crunch decision on whether to keep to the current target for easing restrictions.
The U.S. and the EU are to back a renewed push into investigating the origins of Covid-19. The pair are hoping to adopt the pledge at a summit later this month and the move follows a call for China, from the U.S. and several other countries, to be more transparent and allow greater access to assess the source.
U.K. and European Union officials are due to meet on Wednesday in an attempt to defuse the row over Northern Ireland which is threatening to spill over into the Group of Seven summit later in the week. The U.K.'s top Brexit adviser, David Frost, is to attend the G-7 summit, a sign that the country is preparing for tough talks on the sidelines of the event over the situation in Northern Ireland with both the EU and the U.S. It comes after the EU this week warned of "swift" and "firm" action should the U.K. again breach the terms of the Brexit agreement related to Northern Ireland.
Bitcoin continues to come under pressure this week, with strategists warning of more pain to come and suggesting $20,000 per token could come back into view. There are warnings of a technical breakdown, while others have cited the recent recovery of the ransom from the Colonial Pipeline hack as evidence that the cryptocurrency is not beyond government control. U.S. Internal Revenue Services Commissioner Charles Rettig called for more authority to police the crypto industry, another development likely to add to the regulatory overhang. Still, plenty of millionaires have been minted by Bitcoin's meteoric rise.
It was a modestly negative session in Asia, with indices generally retreating following on from a session of small gains and losses in Europe and the US. Today's session is enlivened to a degree by the Bank of Canada meeting, although policy is expected to remain unchanged. Also on the list is crude oil inventories, which are expected to decline for a second week, although by a smaller amount compared to the previous week.
Data Today
3pm – Bank of Canada rate decision: no change to the current 0.25% rate expected. Markets to watch: CAD crosses
3.30pm – US EIA crude oil inventories (w/e 4 June): previous week saw a fall of 5.1 million barrels in stock markets. Markets to watch: Brent, WTI
Gun to head challenege – Update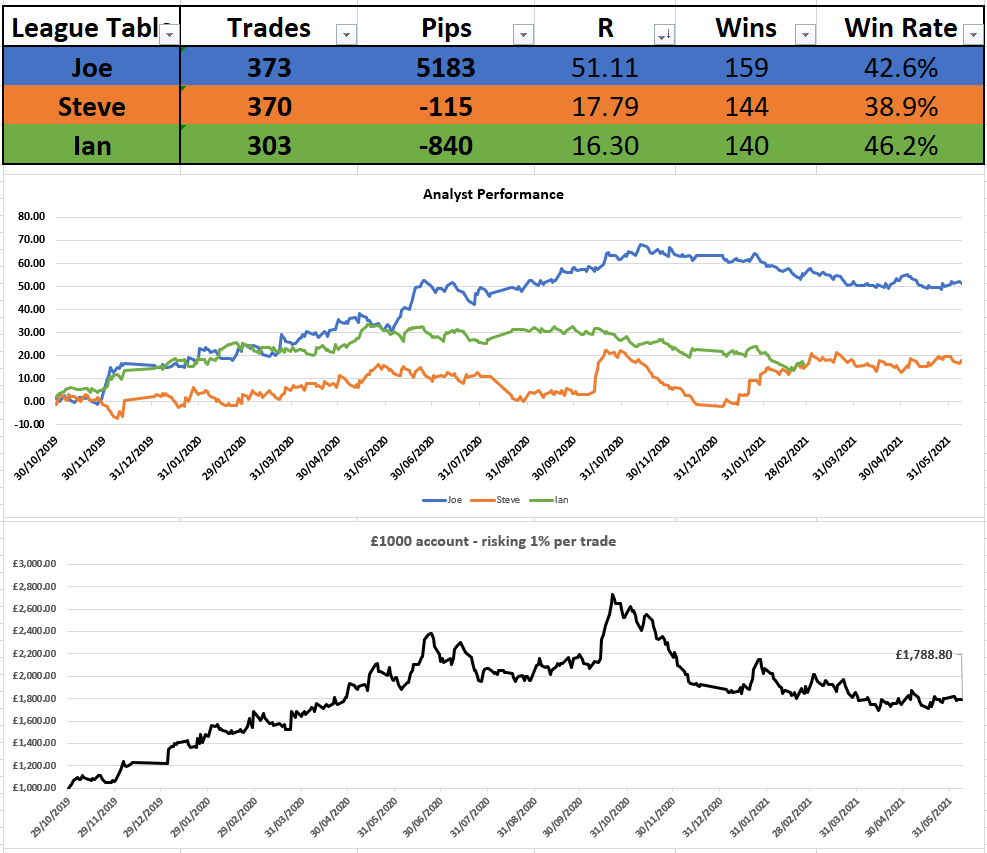 Today's trade idea

Have a great week everyone.
Get award-winning FCA regulated signals and levels on over 30 markets, as well as education resources so you never trade alone.