Good morning and welcome to episode 730 of 'Talking Bull'. In this video/podcast we cover the main headlines and what to expect from the day ahead. 
We take a technical look at key markets that are likely to be impacted by today's events. Also, we participate in a 'Gun to the head' challenge where each of us calls a live trade. These will expire at 9pm tonight and we will keep track of the progress over time.
We hope you enjoy it!
For a selection of free educational content, join our Discord server at – https://discord.gg/Db4UWVFvF6
Show notes:
Taf hit target on Oil for a 2.96R win. Steve was onside 0.16R on Bitcoin, Joe was stopped on GBPJPY.
We have included an illustration based on a £1000 account. This will follow the combined return of our morning trades by risking 1% of the trading capital per trade. The 1% risk is a variable monetary amount and will rise and fall based on the success of the calls.
We are currently up 204.50% collectively since we began recording Talking Bull on the 30th October 2019.
News
Solid increase in US retail sales
US retail sales increased 0.3% for October after no change the previous month and above expectations of a 1.0% increase. Underlying sales increased 1.3% on the month after a 0.1% decline previously while the control group posted a 0.7% gain.
US housing weakness continues
The NAHB housing index dipped further to 33 for November from 38 previously, below expectations of 36 and the lowest reading since April 2020 and the second-lowest reading for 10 years which reinforced unease over the housing sector.
Mixed Fed rhetoric
San Francisco Fed President Daly stated that there is evidence that consumers are stepping back and the Fed wants to see a slower economy. As far as interest rates are concerned, she stated that a pause is off the table right now with the discussion on the pace of hikes. She added that a high of 4.75-5.25% is reasonable.
Fed Governor Waller stated that rates still had a long way to go, but was happy to slow the pace of rate hikes.
Dovish BoE talk
Bank of England MPC member Dhingra stated that there is now a risk of over-tightening and that there is a risk of the bank deepening the recession if it raises interest rates further.
She added that the economy is seeing strong stagnation in the services sector and that there has been a much bigger slowdown in UK trade compared with the rest of the world and this is an effect of Brexit.
Australian unemployment at 48-year low
The Australian data recorded a decline in unemployment to 3.4% from 3.5% and the lowest reading since 1974 while there was a larger than expected increase in employment of over 32,000 compared with expectations of 15,000.
UK Autumn Statement due
Chancellor Hunt will present the Autumn Statement on Thursday with expectations of fiscal tightening of around £50bn with much of the tightening likely to be aimed later in the five-year period to lessen the immediate impact.
The latest OBR forecasts for the economy and borrowing levels will be watched closely.
Data Today
11.30: UK Autumn Statement
13.30: US Philly Fed manufacturing survey
13.30: US jobless claims
Key events over the next week
November 23rd: Global PMI flash data
Gun to head challenge – Update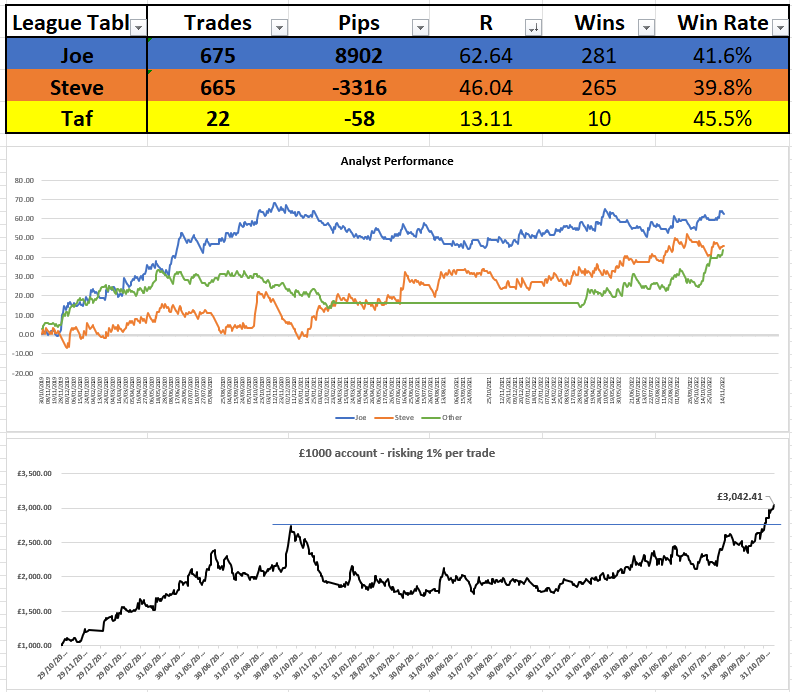 Today's trade idea

Have a great week everyone.
Get award-winning FCA regulated signals and levels on over 30 markets, as well as education resources so you never trade alone.