Unease over the US outlook and increased speculation over a Fed rate cut
Posted: 3rd June 2019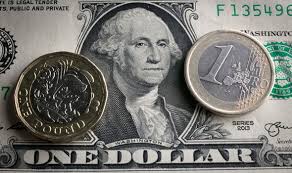 Daily market report June 3rd 2019
Market highlights
Global trade fears continued to intensify on Friday following President Trump's threat to impose tariffs on all Mexican exports.
Bond yields continued to decline sharply with the US 10-year yield at 21-month lows and German yields near record lows.
Equity markets also retreated sharply as fears over earnings intensified.
Increased unease over the US outlook and increased speculation over a Fed rate cut undermined the dollar with significant daily losses as EUR/USD made net gains.
Oil prices declined sharply again with a daily loss of over 5% as demand fears intensified.
Gold secured strong gains on a combination of risk fears and a weaker dollar.
EUR/USD
German consumer prices increased 0.2% for May, slightly below consensus forecasts of 0.3% with the year-on-year rate declining to 1.4% from 2.0% as last month's distortion due to the timing of Easter was reversed. Markets were also monitoring Italian developments as Finance Minister Tria attempted to find a compromise over tax plans.
German yields continued to decline with the benchmark 10-year rate testing record lows at -0.20% as global risk aversion also triggered support for German bunds. The Euro gained net support from the strong Euro-zone current account position.
The US PCE prices data recorded an increase of 0.2% for April, in line with consensus forecasts, with the year-on-year increase at 1.6% from a downwardly-revised 1.5% the previous month.
The Chicago PMI index was below consensus forecasts for the third month in succession with a limited recovery to 54.2 from 52.6 previously. The revised University of Michigan consumer confidence declined to 100.0 from the provisional reading of 102.4 as the expectations component moved significantly lower. Subdued inflation data maintained expectations that the Federal Reserve could cut interest rates later in 2019. There were also increased fears over damage to the US economy from a fresh round of tariffs and this would also increase the potential for the Fed to relax monetary policy.
Investment banks lowered their forecasts for US rates and yield spreads over German bunds narrowed slightly during the day. As US sentiment eroded, EUR/USD was able to make net gains to the 1.1170. Risk sentiment remained weak in Asia on Monday with EUR/USD edging higher to 1.1175 as the dollar was hampered by US economic concerns.
USD/JPY
Risk appetite continued to deteriorate during Friday as global trade and growth fears intensified following President Trump's move to announce tariffs on Mexican exports from June 10th. US equities declined with a 1.3% loss for the S&P 500 index while the Dow Jones index registered its 6th successive weekly decline.
Bond markets remained an important focus with further evidence of defensive buying. The 10-year yield declined to a 21-month low near 2.13%. With the yen attracting defensive demand, USD/JPY dipped sharply to 4-month lows around 108.25.
CFTC data maintained a notable short yen position, maintaining the potential for a further liquidation of shorts if risk appetite weakens further. US equity futures remained under pressure in Asian trading on Monday with USD/JPY trapped close to 108.20, although markets were wary over potential verbal intervention from Japan's Finance Ministry.
Sterling
UK mortgage lending was above consensus forecasts for April and consumer lending also beat market expectations with an increase to the highest level since July 2018 at £5.2bn from £4.7bn the previous month. There was no significant currency impact as global trade and domestic political conditions dominated sentiment.
The weaker risk tone and slide in oil prices undermined Sterling, especially with an absence of positive political factors. GBP/USD dipped to fresh 4-month lows near 1.2550 with EUR/GBP peaking near 0.8875. There as a reversal in US trading with a GBP/USD move back above 1.2600 as the dollar lost traction while EUR/GBP also retreated from its best levels as Sterling short covering increased.
CFTC data recorded a further increase in short, non-commercial Sterling positions, although still well below extreme levels seen early in 2019. GBP/USD edged higher against a fragile dollar in Asia on Monday with EUR/GBP close to 0.8840.
Swiss franc
The Swiss franc gained significant support during Friday as risk appetite declined sharply. With equity markets under pressure and fear dominating global investors, the Swiss currency secured strong defensive support.
EUR/CHF declined to lows around 1.1175 before stabilising while the dollar dipped to near parity. Risk appetite remained very fragile in Asia on Monday as equities declined further and the dollar dipped below parity. Markets were wary over potential National Bank intervention to curb potential franc gains.
AUD/USD + USD/CAD
The Australian dollar was undermined by weaker risk conditions during Friday. It was, however, resilient and AUD/USD posted net gains to the 0.6935 area as the US dollar lost traction.
This trend continued in Asia on Monday with AUD/USD edging higher to the 0.6940 area.
Monthly Canadian GDP data was stronger than expected with a 0.5% gain, although the quarterly data was in line with expectations.
The Canadian currency was resilient despite fresh trade fears and a slide in oil prices with USD/CAD settling around 1.3520 with a marginal move lower in Asia on Monday.
NOK+ SEK
The Norwegian krone was undermined by concerns over the global growth outlook and a slide in oil prices. EUR/NOK pushed to highs at 9.80 before hitting resistance and settling just below this level in choppy trading with USD/NOK near 8.75.
The Swedish krona also lost ground ahead of the New York open with EUR/SEK advancing to 10.65 before a reversal to near 10.60 as USD/SEK dipped below 9.50.
Equities
Euro-zone equity markets registered sharp losses on Friday as global trade and growth fears intensified.
The Eurostoxx 50 index declined 1.15% with a sharper 1.45% loss for the German DAX index amid unease over export prospects.
Major UK stocks lost ground with a negative impact from oil prices, although there was some protection from gains in gold and FTSE 100 index losses were held to 0.7%.
US equities declined sharply with increased fears that trade conflicts would push the US economy into recession. The S&P 500 index declined 1.3% with the Dow Jones industrial index declining for the 6th successive week.
US futures continued to move lower on Monday with Asian markets also opening lower, although bourses did demonstrate some resilience.
Japan's Nikkei 225 index traded 1.0% lower during the session with the Australian index 0.6% lower.
China's Shanghai index registered a decline of 0.25% with Hong Kong's Hang Seng index 0.8% lower
Commodities
Oil prices came under heavy selling pressure on Friday as demand fears intensified following the US threat to impose tariffs on Mexico. There were further fears of damage to the global economy and a dip in crude demand.
The potential for limited waivers to allow some Iranian exports also undermined crude support.
Overall, crude registered a decline of over 5% with WTI sliding below $53.50 p/b while Brent dipped below $62.0 p/b.
Selling pressure persisted in Asia on Monday with WTI below $53.0 p/b and August Brent dipped to $61.0 p/b.
Gold drew considerable support from the fresh slide in risk appetite as equity markets declined sharply. A weaker dollar in New York trading also underpinned demand for precious metals with a move above $1,300 per ounce and 6-week highs just above $1,305. Buying continued in Asia on Monday with spot close to $1,310 per ounce.
Silver made only a limited advance to the $14.55 per ounce area on Friday with a move to $14.60 per ounce on Monday.
Cryptocurrencies
Cryptocurrencies gradually regained ground during Friday as a further deterioration in risk appetite triggered an element of defensive demand and bitcoin advanced to the $8500 area.
Prices moved higher over the weekend, although bitcoin hit selling interest near $8800.
Ether recovered to just above $275 before a retreat to below $270 in Asia on Monday.
Calendar
Major events for the day ahead: (times in BST)
09.30: UK PMI index manufacturing
15.00: US ISM manufacturing index
02.30 (Tues): Australia retail sales
05.30: Reserve Bank of Australia decision