Good morning and welcome to episode 391 of 'Talking Bull'. In this video/podcast we cover the main headlines and what to expect from the day ahead. 
We take a technical look at key markets that are likely to be impacted by today's events. Also, we participate in a 'Gun to the head' challenge where each of us calls a live trade. These will expire at 9pm tonight and we will keep track of the progress over time.
We hope you enjoy it!
Join us on Telegram for more content – https://t.me/SCFree
Show notes:
Joe made 1.25R on FTSE yesterday, while Steve was stopped out on Bitcoin.
We have included an illustration based on a £1000 account. This will follow the combined return of our morning trades by risking 1% of the trading capital per trade. The 1% risk is a variable monetary amount and will rise and fall based on the success of the calls.
We are currently up 79.32% collectively since we began recording Talking Bull on the 30th October 2019.
News
A decision on whether to maintain a higher pace of emergency asset purchases is investors' focal point as European Central Bank policy makers are due to meet on Thursday. Government bond yields in the euro area have fallen to their lowest level since April, reducing the need for aggressive stimulus, but the ECB may err on the side of caution given insufficient evidence that the economic rebound from the pandemic is sustainable. The bank boosted the speed of bond-buying earlier this year in response to rising yields that could threaten the recovery.
The meme stock craze has been well and truly revived, with a host of new names now garnering attention among retail traders, running the gamut from medical insurance to wrestling to prisons. The heavily-shorted stocks that the Reddit crowd tends to target, however, are dwindling in number as investors get wise to the gambit. And U.S. regulators have called for a broad-based review of stock trading rules. All of which coincided with results from the original meme stock, GameStop, where it announced it hired executives from Amazon, said it plans to sell shares and added that regulators are looking into the trading of its stock.
The European Union warned it may impose tariffs and quotas on the U.K. as the bitter Brexit dispute over Northern Ireland rumbles on, with talks between the two sides ending without a breakthrough. That makes it more likely that the U.K. will mount a defense of its position on the matter at the Group of Seven summit in Cornwall this week. Meanwhile, U.K. Prime Minister Boris Johnson warned about rising Covid-19 infections as daily cases continue to creep higher, less than a week before he is due to decide whether to go ahead with plans to further ease restrictions on June 21.
U.S. President Joe Biden's agenda as the G-7 summit approaches keeps getting busier. Staffs of Biden and other G-7 leaders are putting together a document that outlines a plan for sharing vaccinations with a view to ending the Covid-19 pandemic by December 2020. Biden will also meet the U.K.'s Johnson ahead of the event to commit to resuming travel between the two countries as soon as possible. And separately, U.S. and Chinese commerce ministers have agreed to push forward trade and investment links between the countries in the first call held since the start of Biden's term.
Today should bring some more interest after a dull few sessions, thanks to the ECB meeting and US CPI data. The ECB is expected to leave policy unchanged, and will look to avoid being drawn too much on any tapering talk, in order to provide room to move if economic data weakens. US CPI will be closely-watched for signs of price pressure, but any weaker figure could well mark the peak of inflation concerns for the time being.
Data Today
12.45pm – ECB rate decision (press conference @ 1.30pm): no change in rates but some commentary on current inflation and the outlook for prices will have a bearing on EUR. Markets to watch: eurozone indices, EUR crosses
1.30pm – US CPI (May), initial jobless claims (w/e 5 June): prices to rise 4.7% from 4.2% YoY and 0.5% from 0.8% MoM, while core CPI is expected to rise 3.2% from 3% YoY and 0.8% from 0.9% MoM. Claims to fall to 340K, after dropping to 385K in the previous week, the first sub-400K print since March 2020. Markets to watch: US indices, USD crosses
Gun to head challenege – Update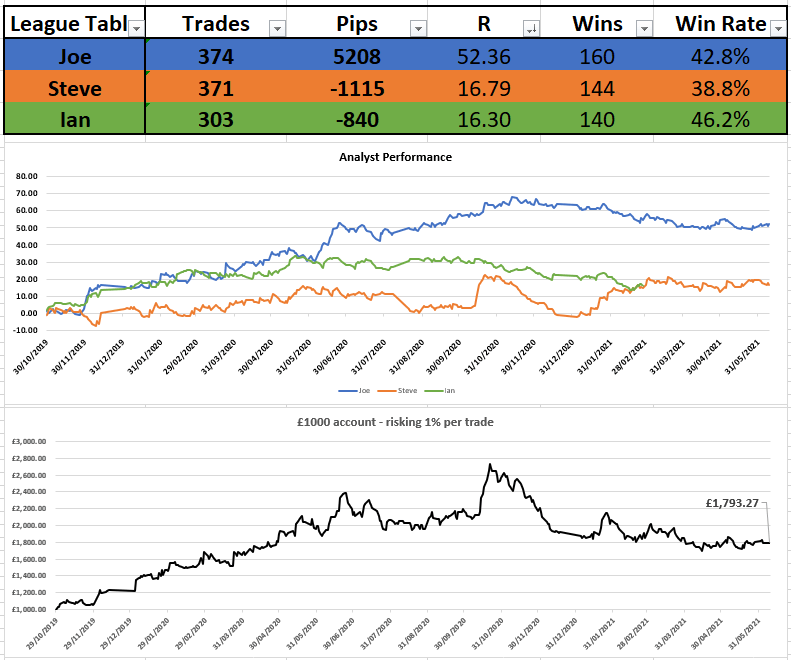 Today's trade idea

Have a great week everyone.
Get award-winning FCA regulated signals and levels on over 30 markets, as well as education resources so you never trade alone.