Good morning and welcome to episode 502 of 'Talking Bull'. In this video/podcast we cover the main headlines and what to expect from the day ahead. 
We take a technical look at key markets that are likely to be impacted by today's events. Also, we participate in a 'Gun to the head' challenge where each of us calls a live trade. These will expire at 9pm tonight and we will keep track of the progress over time.
We hope you enjoy it!
Show notes:
Joe made 1.14R on USDJPY & Steve made 0.27R on DAX.
We have included an illustration based on a £1000 account. This will follow the combined return of our morning trades by risking 1% of the trading capital per trade. The 1% risk is a variable monetary amount and will rise and fall based on the success of the calls.
We are currently up 81.76% collectively since we began recording Talking Bull on the 30th October 2019.
News
Federal Reserve officials at their last meeting were open to removing policy support at a faster pace to keep inflation in check, even before data showed price pressures accelerating. "Various participants noted that the Committee should be prepared to adjust the pace of asset purchases and raise the target range for the federal funds rate sooner than participants currently anticipated if inflation continued to run higher," according to minutes released Wednesday of the November meeting. Since the meeting, data on inflation have worsened. Deutsche Bank said it now expects the Fed will accelerate the pace of tapering at its December policy gathering.
Sweden's first female prime minister, Magdalena Andersson, got the worst possible start to her tenure when she was forced to resign only hours after her historic appointment. The resignation was triggered after a junior partner to Andersson's Social Democrats left her government over the loss of next year's budget vote. The 54-year-old former finance minister, who had to step down to get another go at securing the top seat, said she is still ready to lead a one-party cabinet and will now face a new vote. The latest turbulence shows how the rise of the anti-immigrant Sweden Democrats has made it extremely difficult to form viable coalitions.
European futures are pointing to a strong open after U.S. shares rose, shrugging off tapering concerns. U.S. markets are closed Thursday as people get together for Thanksgiving. In this region, earnings have a boozy feel with pub operator Mitchells & Butlers and liquor group Remy Cointreau updating. For central banks, Sweden is seen keeping interest rates as they are and Bank of England Governor Andrew Bailey is on the speaker schedule.
A largely positive session in Asia followed on from tentative gains in the US. That comes despite the ongoing inflation push that saw the US core PCE inflation gauge reach a 31-year high of 5.1%. With US unemployment claims falling below the 200k mark for the first time since 1969, it should come as no surprise to see FOMC minutes warn that the pace of tapering could be altered as we move forward. German Covid cases continue to rise, bringing a focus on the country as they see a change at the helm thanks to a coalition deal between the Social Democrats , Greens, and Free Democrats. That sees Olaf Scholz replace Angela Merkel who has been in power for an impressive 16 years. German data disappointed once again this morning, with the Gfk consumer climate reading down to a six-month low of -1.6. Looking ahead, the US Thanksgiving celebrations should ensure a relatively muted affair later into the day. Appearances from ECB President Lagarde, and BoE Governor Bailey thus make up the main events of note.
Data Today
Thanksgiving – US markets closed
Gun to head challenge – Update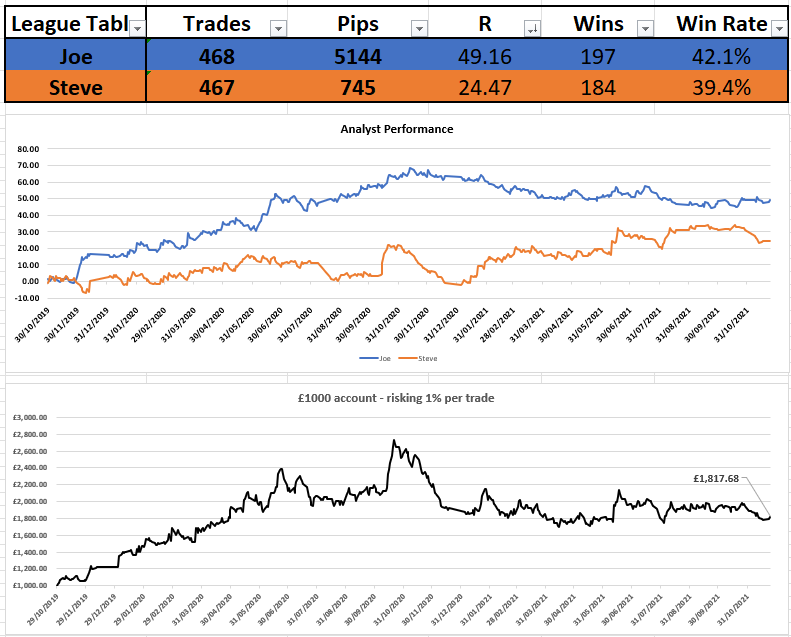 Today's trade idea

Have a great week everyone.
Get award-winning FCA regulated signals and levels on over 30 markets, as well as education resources so you never trade alone.