Good morning and welcome to episode 735 of 'Talking Bull'. In this video/podcast we cover the main headlines and what to expect from the day ahead. 
We take a technical look at key markets that are likely to be impacted by today's events. Also, we participate in a 'Gun to the head' challenge where each of us calls a live trade. These will expire at 9pm tonight and we will keep track of the progress over time.
We hope you enjoy it!
For a selection of free educational content, join our Discord server at – https://discord.gg/Db4UWVFvF6
Show notes:
Steve made 0.46R on Bitcoin yesterday.
We have included an illustration based on a £1000 account. This will follow the combined return of our morning trades by risking 1% of the trading capital per trade. The 1% risk is a variable monetary amount and will rise and fall based on the success of the calls.
We are currently up 212.34% collectively since we began recording Talking Bull on the 30th October 2019.
News
Euro-Zone PMI data remains in contraction
The Euro-Zone PMI manufacturing index recovered to a 2-month high of 47.3 for November from 46.4 previously and above consensus forecasts of 46.0.
The services index was unchanged at 48.6 and also slightly stronger than market expectations.
Overall business sentiment has remained in contraction territory for five months and overall business confidence remained very fragile. There was an easing in supply-chain pressures while inflation pressures moderated.
No change in UK business confidence
According to the flash data, the UK PMI manufacturing index was unchanged at 46.2 for November and above consensus forecasts of 45.7 while the services-sector index was also unchanged at 48.8 and above market expectations of 48.0.
Overall business confidence recovered slightly amid an easing of political uncertainty, but it was still the second-weakest reading on record with notable pessimism in the manufacturing sector. Input prices continued to increase strongly, but output prices increased at the slowest rate since August 2021 due to weak demand conditions.
US reservations increase as business confidence slides
According to flash data, the US PMI manufacturing index declined to a 30-month low of 47.6 for November from 50.4 previously and below consensus forecasts of 50.0.
The services-sector index also retreated to a 3-month low of 46.1 from 47.8 and below expectations of 47.9.
Excluding the initial pandemic period, there was the sharpest decline in new orders since 2009. There was a significant easing of inflation pressures with output prices increasing at the slowest rate for just over two years.
Fed minutes back slower rate hikes
Minutes from November's Federal Reserve meeting recorded that a substantial majority of policymakers agreed that it would likely be appropriate to slow the pace of rate hikes soon. Some members also expressed concerns over the risk to financial stability if the central bank pushed ahead with strong rate increases.
Although there were concerns over inflation trends, markets considered the overall tone slightly more dovish than expected
Dollar loses ground
The weaker US PMI data was important in increasing reservations over the US economy while the European data provided an element of relief.
Fed minutes supported the narrative of a slower pace of rate hikes and the dollar posted notable losses to weekly lows.
UK Supreme Court rules against Indyref2
The UK Supreme Court ruled that the Scottish Parliament did not have the authority to hold a second independence referendum without the approval of the Westminster government. Although the long-term situation remains unresolved, there is no real prospect that SNP plans for a referendum next year will go ahead.
US Thanksgiving holiday
There will be a US market holiday on Thursday which will be significant in curbing trading volumes and undermining liquidity.
Data Today
09.00: Germany IFO index
US Thanksgiving Holiday
Key events over the next week
December 1st: US ISM manufacturing index
December 2nd: US employment report
December 2nd: Canada employment report
Gun to head challenge – Update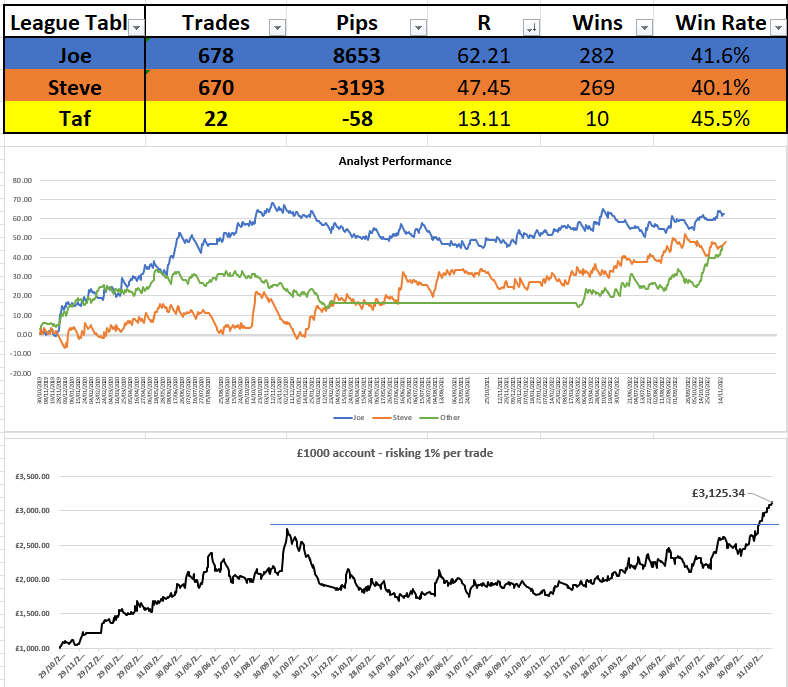 Today's trade idea

Have a great week everyone.
Get award-winning FCA regulated signals and levels on over 30 markets, as well as education resources so you never trade alone.