Talking Bull – Nasdaq 100 has notched up its longest losing streak in four months
Posted: 23rd February 2021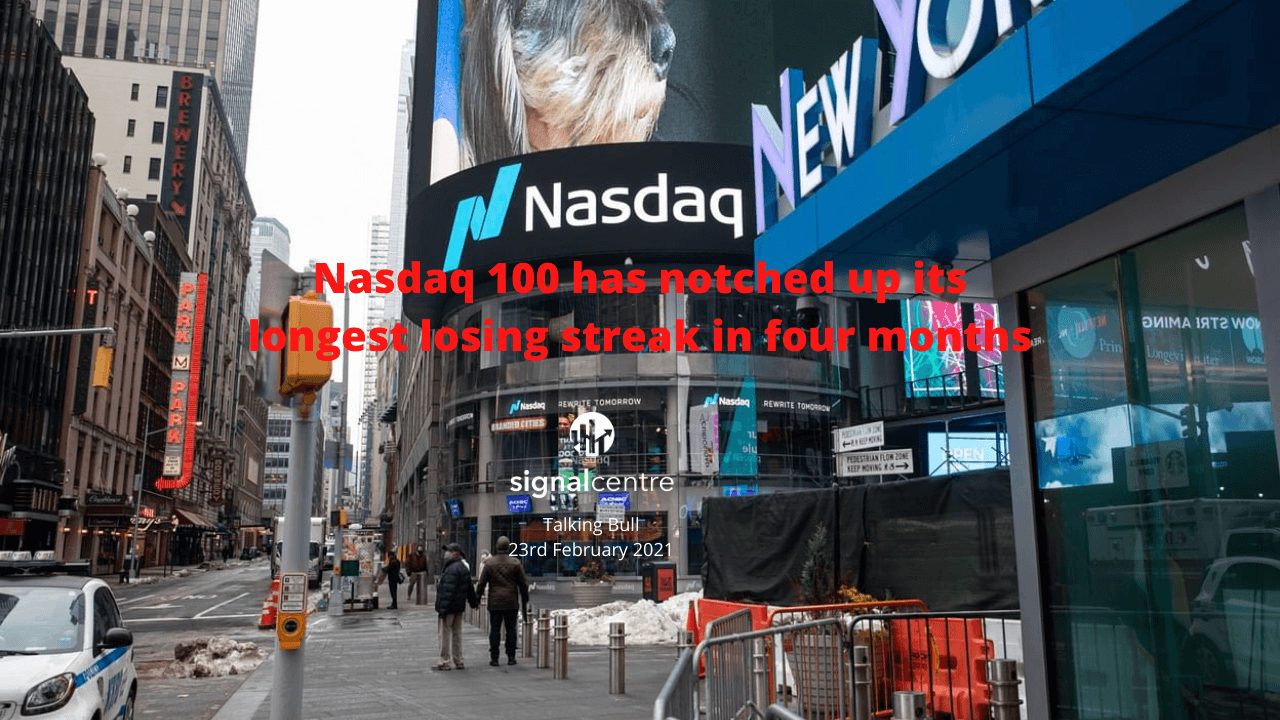 Good morning and welcome to episode 317 of 'Talking Bull'. In this video/podcast we cover the main headlines and what to expect from the day ahead. 
We take a technical look at key markets that are likely to be impacted by today's events. Also, we participate in a 'Gun to the head' challenge where each of us calls a live trade. These will expire at 9pm tonight and we will keep track of the progress over time.
We hope you enjoy it!
Join us on Telegram for more content – https://t.me/SCFree
Show notes:
Steve hit target on Bitcoin yesterday for a 3R win, Ian was not far behind on USDCHF making 2.78R. Joe was stopped out on his oil short.
We have included an illustration based on a £1000 account. This will follow the combined return of our morning trades by risking 1% of the trading capital per trade. The 1% risk is a variable monetary amount and will rise and fall based on the success of the calls.
We are currently up 88.940% collectively since we began recording Talking Bull on the 30th October 2019. 
News
Benchmark bond yields are surging and signs of coming inflation are hitting frothier parts of the market. The Nasdaq 100 has notched up its longest losing streak in four months and Bitcoin is tumbling amid lingering doubts over the sustainability of the cryptocurrency's parabolic rally.
The U.K. government said the end of the pandemic is in sight as Prime Minister Boris Johnson set out an aim to ease lockdown restrictions in a staged manner over the course of the next four months. Pubs and travel stocks were buoyed ahead of the announcement on Monday and the progress made on easing lockdown will be closely scrutinized for these reopening plays. As will the plan from Chancellor of the Exchequer Rishi Sunak in his budget, due on March 3 and where he is expected to spend billions more on state support for the economy in the next few months.
U.S. Democrats will begin the final push for President Joe Biden's $1.9 trillion stimulus bill this week, bidding to pass the package quickly before an earlier round of benefits runs out.
Rising commodity prices have helped elevate stocks overnight, with Australian and Hong Kong markets moving towards the upside.
Meanwhile, Chinese stocks eased back and Japanese markets remained closed for a national holiday.
Rising Treasury yields and inflation expectations continue to dampen sentiment around elevated stocks, yet value names remain well supported in the wake of Boris Johnson's Covid recovery roadmap.
The UK jobs picture provided a welcome boost this morning, with an unexpected 20k fall in claimants and surging average earnings (4.7%) helping to push the pound higher once more.
Looking ahead, final eurozone CPI data, and US consumer confidence data comes into focus, while Fed chair Jerome Powell provides testimony in front of the Senate Banking Committee.
Data Today
3pm – US consumer confidence (February): index to rise to 89.6 from 89.3. Markets to watch: USD crosses
Gun to head trade ideas – Update
Today's trade ideas

Have a great week everyone.
Get award-winning FCA regulated signals and levels on over 30 markets, as well as education resources so you never trade alone.