Wall Street equities posted measured net gains to fresh record highs.
Posted: 27th April 2021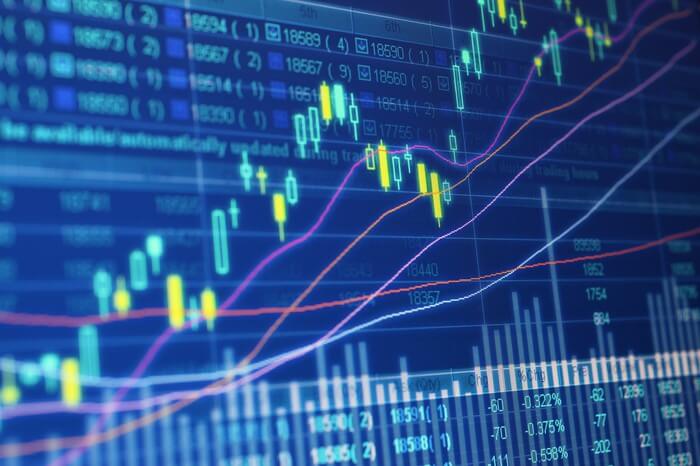 Trade Ideas & Daily market report April 27th 2021
Market highlights.
Overall risk appetite was little changed on Monday with narrow ranges prevailing ahead of Wednesday's Fed statement.
US bond yields were mixed with little net change.
Wall Street equities posted measured net gains to fresh record highs.
Sentiment was more cautious in Asia on Tuesday amid regional coronavirus concerns.
The dollar remained on the defensive, but recovered slightly from fresh 7-week lows.
EUR/USD failed to hold above 1.2100 to trade around 1.2075.
Sterling was little changed with GBP/USD selling above 1.3900.
Commodity currencies posted net gains amid US vulnerability before stabilising on Tuesday.
Oil prices were hampered by Asian demand reservations, but posted net gains.
Precious metals were little changed with underlying support from a fragile dollar.
Cryptocurrencies recovered with bitcoin strengthening to above $54,000.
EUR/USD
The German IFO business confidence index edged higher to 96.8 for April from 96.6 the previous month, although this below consensus forecasts of a stronger improvement to 97.8. The current conditions index strengthened to 94.1 from 93.1 previously, although there was a small decline in the expectations component to 99.5 from 100.3. The IFO stated that the industrial sector was booming, but production bottlenecks are hampering the recovery.
There were reports that the German government will raise the 2021 GDP growth forecast to 3.5% from 3.0%.
After the better than expected PMI data released last week, there was some disappointment over the IFO data and the Euro lost momentum following the release with a EUR/USD retreat back below the 1.2100 level.
US durable goods orders increased 0.5% for March after a revised 0.9% decline the previous month, but well below consensus forecasts of a 2.5% increase. Underlying orders increased 1.6% on the month which met market expectations and there was little impact from the data.
There was an element of caution ahead of Wednesday's Federal Reserve policy statement even though markets expect that the statement will be little changed from the previous month. Expectations of sustained dovish rhetoric from Chair Powell continued to curb underlying dollar support.
Commodity currencies posted significant gains on the day and EUR/USD settled around 1.2090 as the dollar failed to gain any traction. The US dollar was able to resist further selling on Tuesday with EUR/USD close to 1.2075. There was also some wariness of choppy trading surrounding the month-end period.
USD/JPY
US bond yields were unable to make headway ahead of the New York open. The dollar did, however, benefit from a wider recovery and USD/JPY strengthened to the 108.00 area from earlier lows around 107.65.
The Dallas Fed manufacturing index strengthened to 37.3 for April from 28.9 previously. Wages increased at a faster rate on the month and pricing pressures increased.
The data continued to fuel expectations that underlying inflation pressures were increasing in the economy.
USD/JPY held tentative net gains to the 108.10 area at the New York close as Wall Street indices posted fresh record highs.
The Bank of Japan made no policy changes following the latest meeting with interest rates held at -0.1% and the 10-year bond yield target around 0.0%. There was a slight upgrading of the growth outlook, but expectations that inflation is set to remain weak in the short term.
There were further concerns over the state of emergency with the country due to set up mass vaccination centres.
Strong Chinese industrial profits data helped underpin risk appetite during the Asian session with USD/JPY slightly firmer around 108.25 and EUR/JPY around 130.70.
Sterling
There was no evidence that political controversy surrounding the government and Prime Minister Johnson was having a significant market impact at this stage, although there some reservations ahead of the Scottish parliamentary election next week given expectations of a strong SNP performance.
On economic grounds, there was also an element of caution ahead of next week's Bank of England policy meeting and release of the latest Monetary Policy Report.
GBP/USD pushed above the 1.3900 level early Europe on Monday, but was unable to sustain the advance as the dollar resisted further losses.
EUR/GBP hit selling pressure above the 0.8700 level against the UK currency as narrow ranges prevailed.
Equity markets were able to make some headway after the Wall Street open which provided an element of Sterling support and GBP/USD settled around 1.3900.
There was little change on Tuesday with GBP/USD just below the 1.3900 level after the European open with EUR/GBP just below 0.8700.
Swiss franc
Swiss sight deposits increased to CHF701.7bn for the latest week from CHF701.5bn previously which indicated that the National Bank had not been intervening during the week. There were still expectations that the bank would intervene if the currency strengthened sharply.
The Swiss franc weakened in early Europe amid expectations of a recovery in the Euro area, although it did recovery from intra-day lows. EUR/CHF advanced to 1.1070 before a retreat to just below 1.1050. The Swiss currency was little changed on Tuesday as tight ranges prevailed with USD/CHF just above 0.9150.
AUD/USD + USD/CAD
The Australian dollar was unable to make headway ahead of Monday's New York open, but gradually gained traction as equities moved higher and the US currency edged lower again.
AUD/USD broke above 0.7800 to 0.7815 highs before fading slightly.
The Chinese industrial profits data helped underpin sentiment and copper prices posted net gains.
AUD/USD did, however, hit selling interest above 0.7800 and settled just below this level with solid support on dips.
The Canadian dollar posted net gains on Monday amid underlying confidence in the outlook and USD/CAD dipped to lows near 1.2380 before a limited correction back to above 1.2400.
Narrow ranges prevailed on Tuesday with USD/CAD just above the 1.2400 level.
NOK+ SEK
The Norwegian krone edged lower in early Europe on Monday, but selling pressure was light and EUR/NOK retreated to near 10.01 from 10.05 as global equities posted renewed gains.
There was little change on Tuesday with USD/NOK around 10.29.
The Swedish krona was held in tight ranges with EUR/SEK settling around 10.13.
There was caution ahead of Tuesday's Riksbank policy decision with the bank rhetoric likely to be the key element. EUR/SEK settled near 10.13 with USD/SEK around 8.39.
Equities
Euro-zone equities were held in tight ranges on Monday amid a lack of fresh incentives. There was underlying support from recovery expectations and mining stocks posted gains, although there was a lack of momentum.
The German DAX index posted a 0.1% gain, although there were stronger gains elsewhere with a 1.0% advance for the Spanish IBEX index.
Major UK stocks posted net gains on Monday amid optimism over domestic re-opening developments. Currency trends were benign and the mining sector posted gains. Overall, the FTSE 100 index posted a 0.35% gain.
Wall Street indices posted gains on Monday amid underlying optimism surrounding the growth outlook and expectations of benign macro policies. The S&P 500 index posted a fresh record high with the Nasdaq index also at a record high.
US futures edged higher on Tuesday, but Asian markets were unable to make headway amid reservations over coronavirus developments.
Japan's Nikkei 225 index declined 0.4% amid domestic coronavirus reservations and the Australian ASX index declined 0.15% despite the solid tone in commodity prices.
China's Shanghai index was little changed in late trading, recovering from intra-day lows with Hong Kong's Hang Seng index marginally lower.
Commodities
The OPEC technical committee expects crude demand to increase in 2021 and made no fresh recommendations on output levels ahead of Wednesday's ministerial meeting.
Crude was undermined by further concerns over the Indian demand outlook.
Although the dollar remained fragile, crude was unable to post significant gains with WTI settling just above $62.0 p/b.
Crude posted limited gains on Tuesday despite coronavirus reservations with WTI around $62.40 p/b while Brent traded just above $65.50 p/b.
Precious metals were held in tight ranges amid a lack of fresh incentives, although there was underlying support from the weak dollar.
Gold settled around $1,780 per ounce with silver posting marginal gains. There was little change on Tuesday with gold at $1,780 per ounce and silver holding above $26.00 per ounce.
Cryptocurrencies
After a strong rebound overnight, cryptocurrencies continued to make headway in Europe on Monday.
Bitcoin pushed to highs around $54,000 as equities posted gains and the dollar remained on the defensive with strong liquidity. Sentiment was also boosted by reports that JP Morgan will offer a bitcoin fund.
Bitcoin corrected only slightly into the European close before choppy trading surrounding earnings data from Tesla as the company reported that some of its bitcoin holdings had been sold.
Bitcoin held steady just below $54,000 in Asia on Tuesday.
Ether posted net gains to above $2,500 before correcting slightly and held above $2,500 on Tuesday.
Calendar
Major events for the day ahead: (times in BST)
15.00: US consumer confidence
02.30 (Wed): Australia consumer prices