Good morning and welcome to episode 600 of 'Talking Bull'. In this video/podcast we cover the main headlines and what to expect from the day ahead. 
We take a technical look at key markets that are likely to be impacted by today's events. Also, we participate in a 'Gun to the head' challenge where each of us calls a live trade. These will expire at 9pm tonight and we will keep track of the progress over time.
We hope you enjoy it!
For a selection of free educational content, join our Discord server at – https://discord.gg/Db4UWVFvF6
Show notes:
Joe was stopped out of GBPAUD, Steve was stopped on HS50, Jamie was offside 0.5R at the close.
We have included an illustration based on a £1000 account. This will follow the combined return of our morning trades by risking 1% of the trading capital per trade. The 1% risk is a variable monetary amount and will rise and fall based on the success of the calls.
We are currently up 115.59% collectively since we began recording Talking Bull on the 30th October 2019.
News
Fed hikes rates 50 basis points to 1.00%
The Federal Reserve increased interest rates by 50 basis points to 1.00% which was in line with consensus forecasts and the vote was unanimous. According to the statement, household spending and investment remain strong despite a slight decline in economic activity for the first quarter while inflation remains elevated.
It added that further rate increases are expected, but also noted that the implications of the Ukraine war on the US economy are highly uncertain.
The Fed will start to shrink the balance sheet from the beginning of June with an initial cap at $47.5bn for the first three months which will then be increased to $95bn.
The central bank was optimistic that inflation would retreat to the 2% target with appropriate tightening.
Powell rules out 75 basis-point rate increases
Comments from Fed Chair Powell were broadly hawkish on inflation with the need to tighten policy relatively quickly, especially as the labour market was very tight. Nevertheless, he ruled out increasing interest rates by more than 50 basis points at any individual meeting.
Powell expressed hopes for a soft landing, but added that this would not be easy.
Following Powell's comments there was a dip in US yields with 2-year yields declining 10 basis points.
Dollar dips as yields decline
Powell's ruling out of rate hikes of more than 50 basis points provided decisive for markets with market expectations surrounding rates scaled back slightly.
The dollar lost ground as shorter-term yields dipped lower with pressure for a correction also a key element after the recent strong US gains.
Wall Street equities surge
The decline in US yields also provided significant relief for Wall Street and equites rallied strongly with the S&P 500 index posting a gain of 3.00% on the day.
Global markets still fretted over the Chinese outlook, especially after a notably weak Caixin PMI survey.
Precious metals relief
Lower US yields and a dollar retreat also provided important relief for precious metals with a strong rebound in gold following Powell's comments.
Dovish BoE rate hike expected
There are strong expectations that the Bank of England will raise interest rates again at this month's policy meeting with a further 25 basis-point increase to 1.00% in an attempt to curb inflation and keep inflation inflations in check.
Markets also expect relatively dovish guidance given downside risks to the UK economy with investment banks generally bearish over the Sterling outlook.
Data Today
09.00: Norges Bank rate decision
12.00: Bank of England policy decision
13.30: US jobless claims
Key events over the next week
May 6th: US employment report
May 6th: Canada employment report
Gun to head challenge – Update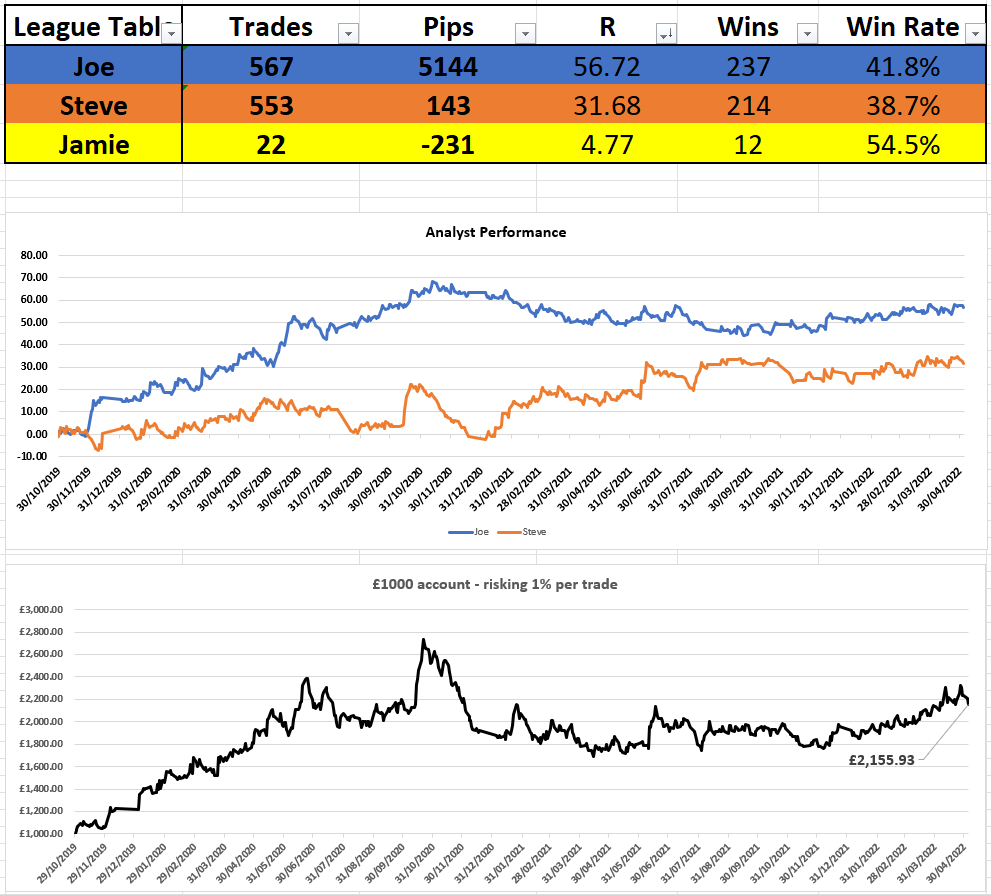 Today's trade idea

Have a great week everyone.
Get award-winning FCA regulated signals and levels on over 30 markets, as well as education resources so you never trade alone.