Good morning and welcome to episode 714 of 'Talking Bull'. In this video/podcast we cover the main headlines and what to expect from the day ahead. 
We take a technical look at key markets that are likely to be impacted by today's events. Also, we participate in a 'Gun to the head' challenge where each of us calls a live trade. These will expire at 9pm tonight and we will keep track of the progress over time.
We hope you enjoy it!
For a selection of free educational content, join our Discord server at – https://discord.gg/Db4UWVFvF6
Show notes:
3 trades, 3 stop outs yesterday
We have included an illustration based on a £1000 account. This will follow the combined return of our morning trades by risking 1% of the trading capital per trade. The 1% risk is a variable monetary amount and will rise and fall based on the success of the calls.
We are currently up 155.56% collectively since we began recording Talking Bull on the 30th October 2019.
News
German data better than expected
The German IFO index declined marginally to 84.3 for October from a revised 84.4 previously, but significantly above consensus forecasts of 83.3. There was a small decline in the current conditions component to 94.1 from 94.5, but the expectations component rallied slightly to 75.6 from 75.3 and both figures were above consensus forecasts.
The IFO stated that a winter recession is coming with the economy likely to contract 0.6% for the fourth quarter. It also reported that retail expectations had hit a new record low, but industry expectations had improved slightly while 50% of companies are expecting to increase prices in the coming three months.
US consumer confidence dips
US consumer confidence dipped to 102.5 for October from a revised 107.8 previously and well below consensus forecasts of 106.5. There was a sharp decline in the current assessment and smaller retreat for the expectations index.
Overall confidence in the labour market declined and there were renewed concerns over inflation trends.
US yields decline
US Treasuries rallied strongly after the New York open which was a key element in undermining dollar support with a dip below 148.00 against the yen.
The 10-year yield dipped below 4.10% after the US data releases and held just below this level on Wednesday.
Dollar retreats
The decline in US yields contributed to significant dollar selling during Tuesday with the currency index dipping to 2-week lows.
Sunak steadies the ship
Sterling secured slight gains into the New York open before posting a strong advance amid hopes that Sunak's government can restore financial stability.
Hunt remained as Chancellor which helped underpin market confidence with a strong focus on fiscal policy in the short term given speculation that the medium-term financial statement scheduled for October 31st will be delayed.
Australian inflation beats expectations
Australian consumer prices increased 1.8% for the third quarter and above consensus forecasts of 1.6% with the core rate also at 1.8% and above expectations of 1.5%.
The data triggered expectations of a more hawkish Reserve Bank policy decision next week.
BoC Decision Wednesday
The Bank of Canada will announce its latest interest rate decision on Wednesday with consensus forecasts for a further 75 basis-point increase to 4.00%.
The bank will also release its latest Monetary Policy Report which will be important for forward guidance.
Data Today
15.00: Bank of Canada policy decision
15.30: US EIA crude inventories
16.00: Bank of Canada press conference
Key events over the next week
October 27th: ECB policy decision
October 28th: Bank of Japan policy decision
Gun to head challenge – Update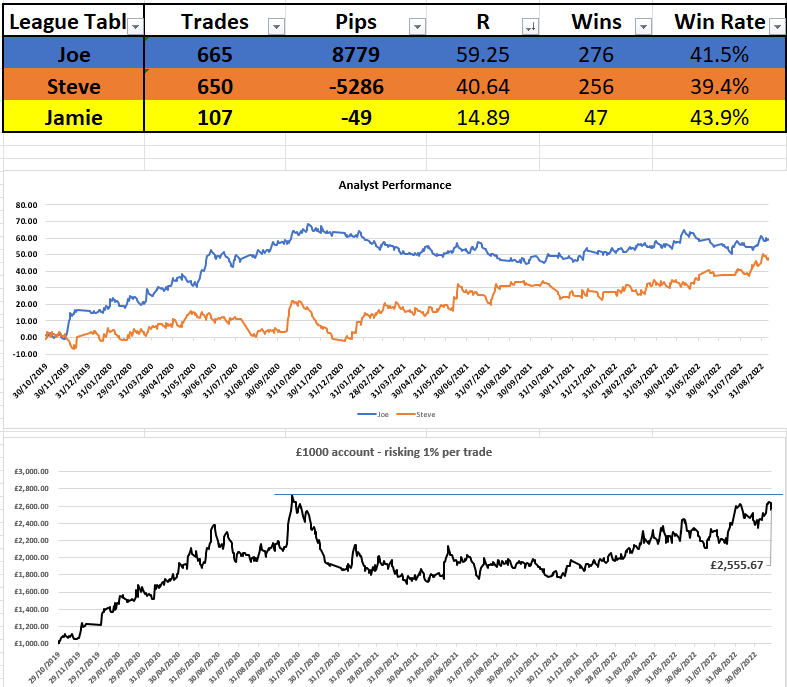 Today's trade idea

Have a great week everyone.
Get award-winning FCA regulated signals and levels on over 30 markets, as well as education resources so you never trade alone.