What next for Rolls Royce (RR.) shares?
Jamie Pakenham-Walsh goes through the charts on Rolls Royce…
About Rolls Royce
Rolls-Royce Holdings Plc designs, develops, manufactures, and services integrated power systems for use in the air, on land, and at sea. The company operates its business through following segments: Civil Aerospace, Power Systems, Defense and ITP Aero. The Civil Aerospace segment offers commercial aero engines and aftermarket services. The Power Systems segment includes engines, power systems and nuclear systems for civil power generation. The Defense segment consists of military aero engines, naval engines, submarines and aftermarket services. The ITP Aero segment provides aeronautical engines and gas turbines. The company was founded in March 1906 and is headquartered in London, the United Kingdom.
Fundamental Information
| | |
| --- | --- |
| Market Capitalisation | £7.049Billion |
| Basic EPS | 0.02 |
| PE Ratio | 44.39 |
| Dividend Yield | 0% |
| Next Earnings Date | 3rd August 2022 |
Latest News Impacting Price
Equity markets across the world have registered sharp losses in recent weeks with the S&P500, the broadest US index, posting its sharpest one-day decline since June 2020.
Weaker than expected results from some key consumer-orientated companies triggered renewed fears over the overall economic trends and potential squeeze on margins which pulled the wider market lower.
In the UK inflation is causing major concern for markets with the headline UK CPI inflation rate surging to 9.0% for April from 7.0% previously and the highest reading since at least 1982. The primary influence was the jump in retail energy prices with fuel prices also a key element.
In terms of what is happening at Rolls-Royce (RR.), in the most recent update to the market  trading was in line with what they expected from January-April. The British company renewed its forecasts and stated its outlook for the civil aerospace division. RR expects underlying revenue to grow at a low double digit percentage compound average growth rate from 2021.
Earlier in April, Britain's Ministry of Defence said that 2 billion pounds worth of defence contracts have been awarded to Rolls Royce and BAE systems as part of the third phase of its submarine deterrent programme: "Dreadnought"
Former unit president Andreas Schell has resigned from his position. He plans to stay on to ensure a seamless transition, until the end of the year at the latest.
Performance Statistics – How does Rolls Royce shape up?
| | | |
| --- | --- | --- |
| 1 Week | 1 Month | 3 Months |
| 1.45% | -13.55% | -29.47% |
| 6 Months | Year to Date | 1 Year |
| -39.29% | -32.81% | -20.05% |
FTSE 100 – Current outlook on the UK Benchmark Index
Technical View – Daily Chart
The FTSE100 index found strong support at 6822 back in March 2022 and more recently we have seen support from around the 7156. The 7678 level has proven to be stiff resistance for the UK market, with the index continuing to struggle to break through. As things stand the market is rangebound, and we believe this continue for the foreseeable future. A break of resistance at 7670 would confirm the potential for further upside, however, a break of 7156 could see a move back to 6820 area.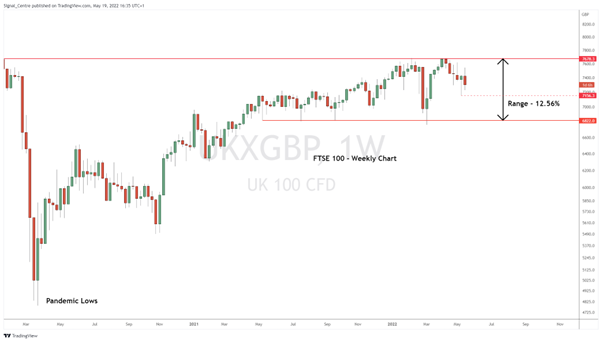 Rolls Royce – Current outlook
Technical View – Weekly Chart (Medium/Long Term View)
Rolls Royce shares found favour with speculators at the height of the global pandemic, with bargain hunters being rewarded with gains of more than 300% from the lows. Since the price has topped out in November 2021, we have seen a fairly heft correction in price with the shares now down 45% from the highs at 150.48p.
The decline in price has been quite steady, however there was some support found at around 90p, which helped stage a mini rally in price towards 110p during March 2022.
The shares do appear to have found support in recent sessions at a key 61.8% Fibonacci retracement level. This may attract buyers back in.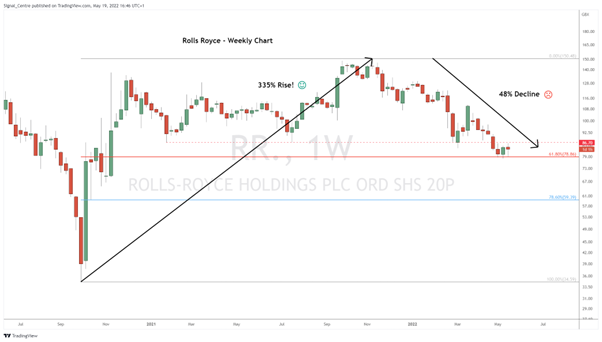 Technical View – Daily Chart (Short/Medium Term View)
Looking at the shares in a shorter timeframe, we can clearly see the shares have been trending lower for many months and currently remain well below the key 200 day moving average at 107.12.
We can see support has been found at the 61.7% Fibonacci retracement level, which is typically a well watched level by market participants. Providing this level holds, it could well be an interested area for investors to begin accumulating shares.
We also note there is potential a wedge formation emerging. Wedges are a classic price action pattern which quite often repeat themselves in markets. Should price break above 86.20p in the short term, then this will provide confirmation that prices may be about to head higher.
Potential upside targets can be found firstly at the 200-day moving average, which is around 107p, then above that we have an unfilled gap at 117.3p. Gaps are often targeted by traders, and this could provide a nice medium-term target for investors.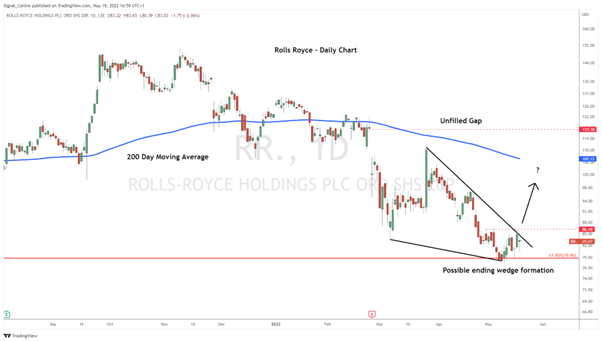 How is Rolls Royce performing versus the FTSE 100 Benchmark
When considering making an investment in a UK Stock, it is always a good idea to compare the performance of a stock versus the benchmark index. When comparing potential returns you should ask the question of will this particular investment deliver returns more than what could be potentially achieve by using a passive approach, so for instance owning an index tracker.
Looking at the chart below we have created a ratio of the Rolls Royce price against the price of the FTSE100 index. If this ratio is moving up, it suggests that Rolls Royce is outperforming the benchmark, if it is moving lower, it suggests the stock is underperforming the benchmark.
We can see that the ratio is trending lower within a bearish channel, and while the price of the shares has found support at the 61.8% Fibonacci level, on this chart we can see that it have overshot that level and not showing any real sign of reversing. It is possible that we could see a period of outperformance from the shares, but it is likely to be limited towards the upper end of this channel for now.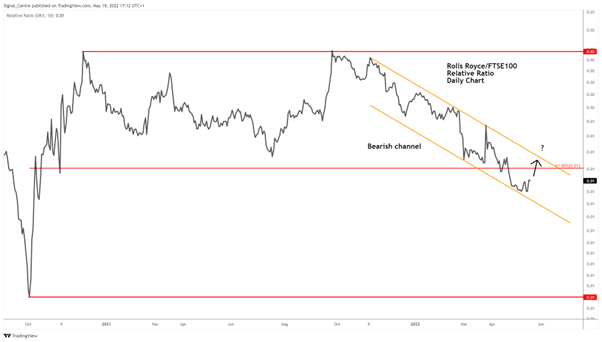 Should you buy Rolls Royce shares?
Looking at the setup of the charts at present we can see the price has reacted from a very important level at 78.86p, and providing that level holds, there is potential for higher prices to be seen in the short term towards 107.12p and 117.3p. The risk versus reward at this level looks quite attractive. If you were to invest at the current price of 83p, with a stop loss at 77.35p (This would invalidate the support level and likely lead to lower prices) and target a move to 107p, that would represent a healthy return.
For every £1 invested, the reward potential would be £4.25. By targeting the unfilled gap at 117.3p, that would provide a reward of £6.03 for every £1 invested.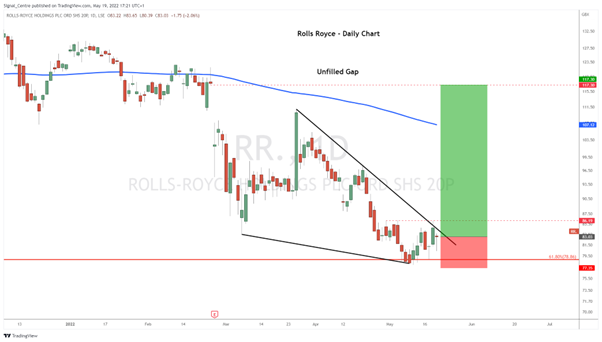 In terms of timing the entry to try and reduce the risk, the prudent approach may be to buy the shares once they have completed the wedge pattern and cleared resistance at 86.20. However, this would reduce the risk to reward ratio to £3.22 for every £1 risked.
Overall, there are lots of uncertainties surrounding financial markets, we also note that Rolls Royce shares are trending lower on a price basis and on a comparative basis against the UK benchmark.
Buying Rolls Royce shares at present is risky, but with risk does come the potential for high rewards. If you do decide to speculate on any share, then ensure you have a risk management strategy in place and plan in case things do not go as you expected.