Good morning and welcome to episode 677 of 'Talking Bull'. In this video/podcast we cover the main headlines and what to expect from the day ahead. 
We take a technical look at key markets that are likely to be impacted by today's events. Also, we participate in a 'Gun to the head' challenge where each of us calls a live trade. These will expire at 9pm tonight and we will keep track of the progress over time.
We hope you enjoy it!
For a selection of free educational content, join our Discord server at – https://discord.gg/Db4UWVFvF6
Show notes:
Joe made 3.38R on NIKKEI, Steve was onside 1.57R on NASDAQ and Jamie was up 1.59R on EU50. 6.55R in total.
We have included an illustration based on a £1000 account. This will follow the combined return of our morning trades by risking 1% of the trading capital per trade. The 1% risk is a variable monetary amount and will rise and fall based on the success of the calls.
We are currently up 154.22% collectively since we began recording Talking Bull on the 30th October 2019.
News
US consumer confidence recovers
US consumer confidence increased to a 4-month high of 103.2 for August from a revised 95.3 previously and above consensus forecasts of 97.9 as lower gasoline prices helped underpin sentiment.
JOLTS job openings increased to 11.24mn for July from a revised 11.04mn previously which reinforced expectations of a tight labour market.
Hawkish Fed rhetoric continues
New York Fed President Williams commented that inflation is still way too high and that the central bank needs to slow demand enough to meet supply. He noted that the base case is that interest rates need to go somewhat above 3.50% and that a restrictive policy will be needed for some time next year.
According to Atlanta head Bostic slowing inflation may give reason to slow interest rate hikes while there are risks in being too timid or too aggressive in raising rates.
ECB debate intensifies
ECB chief economist Lane stated that he did not rule out a mild and temporary technical recession in the Euro-Zone. He also stated that the central bank should raise rates on a step-by-step basis which dampened speculation to some extent that the central bank would raise rates by 75 basis points at the September policy meeting.
Fellow council member Knot, who usually adopts a hawkish stance, stated that he would prefer a 75 basis-point hike at this point, but added that he was open to discussion.
Euro-Zone inflation data due on Wednesday
The latest Euro-Zone CPI inflation data is due on Wednesday.
Consensus forecasts are for an increase in the headline rate to a fresh record of 9.0% from 8.9% with the core rate edging higher to 4.1% from 4.0%.
Revamped US ADP jobs data also due
The ADP suspended the monthly jobs report earlier in 2022, but the data is scheduled to resume on Wednesday.
Given new methodology, there is the risk of an erratic release.
UK fundamentals continue to deteriorate
UK business confidence index deteriorated sharply for August according to the latest Lloyds Bank survey with the lowest reading since March 2001 while shop-price inflation accelerated to a 17-year high and overall confidence in the UK outlook weakened further.
Data Today
10.00: Euro-Zone consumer prices
13.15: US ADP employment report
14.45: US Chicago PMI index
15.30: US EIA crude oil inventories
Key events over the next week
September 1st: US ISM manufacturing index
September 2nd: US employment report
Gun to head challenge – Update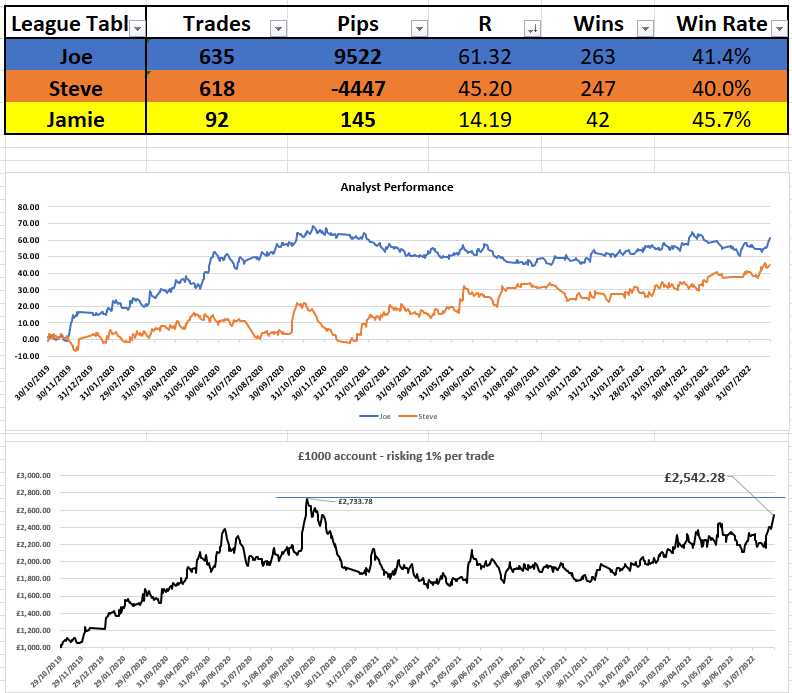 Today's trade idea

Have a great week everyone.
Get award-winning FCA regulated signals and levels on over 30 markets, as well as education resources so you never trade alone.